Modern Mom: Don't forget Dad
In this feature of Modern Mom, we're focusing on the dads — everything from favorite dinners, irresistible snacks and mouth-watering desserts.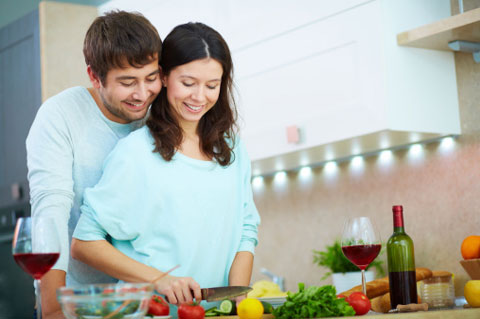 My husband is a foodie. They say the way to a man's heart is through his stomach, and this couldn't be any more true for my husband. He loves it when I meal plan, he loves to cook dinner for me and the kids, he enjoys going to the grocery store and he loves trying out new restaurants. As a mom of two under two, I admit I've gotten a little lazy lately when it comes to cooking (as I'm sure most moms of babies would agree). I worry more about what the kids will eat and less about my husband. So, surprise your husband this week with something he'll love.
Anything straight off the grill
Men love barbecue. Go ahead and ask your man what his favorite food for dinner is and more than likely it will be something that comes off a grill. This is a win-win for you, too, since he usually grills it.
Recipes to try:
A sandwich of some sort
We all remember Joey Tribbiani's love of the meatball sub. Most men will agree that a meat-filled sandwich of any sort will make them feel loved and appreciated.
Our favorite sandwiches:
A snack to die for
Does your man come home from work starving, or is it just mine? Instead of him rummaging through the pantry and eating everything in sight, I'm now prepared.
Irresistible after-work snacks:
Don't forget dessert
Not all men love dessert, but mine certainly does. He loves everything from store-bought brownies to homemade Key lime pie. Around here, we either end our nights with a glass of red or a sweet dessert (normally, the dessert wins, if not both).
Desserts to savor:
Once a week, or more, try to have one of your husband's favorite meals or snacks ready for him. If you can't do meals catered to him often, what about drinks? My husband loves when I have an iced coffee waiting for him when he gets home, or a fresh-squeezed lemonade on hot summer afternoons. It's the little things like this that make a huge difference and really make your husband feel like a priority among the hustle and bustle of the kids.
More Modern Mom
Modern Mom: Easy ways to limit sugar
Modern Mom: Helping kids with food allergies
Modern Mom: Healthy after-school snacks the kids will love
Photo credit: shironosov / Istock / 360 / Getty images