Pizza zucchini boats
Get those kids to love their veggies. Pizza zucchini boats take all the flavors of delicious pizza and stuff them into fun-to-eat zucchini boats!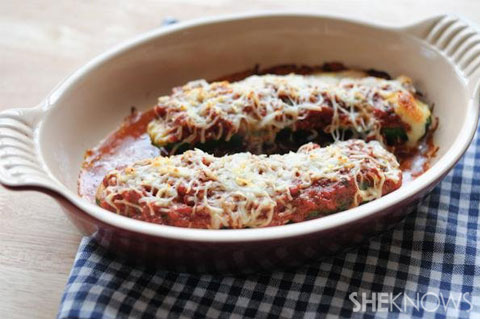 Pizza zucchini boats
Serves 4
Ingredients:
4 medium zucchini, washed and patted dry
1/4 cup chopped onion
1/4 cup chopped bell peppers
1/4 cup black olives
1/2 cup chopped pepperoni or cooked Italian sausage
1 cup marinara sauce
1 cup mozzarella cheese
Directions:
Bring a large pot of water to a boil.
Cut the zucchini in half lengthwise and gently scoop out the seeds and allowing about 1/4- to 1/2-inch on the sides.
Place the zucchini in the pot of boiling water and cook for about 1 to 2 minutes until slightly tender.
While the zucchini are boiling, brush a baking dish with olive oil.
Preheat the oven to 400 degrees F.
Drain the zucchini and place cut-side up in the prepared baking dish.
Combine the onions, bell peppers, black olives and chopped pepperoni in a bowl.
Spoon evenly into the zucchini boats.
Drizzle the marinara sauce evenly over the top of the meat mixture.
Sprinkle the zucchini evenly with mozzarella cheese.
Bake for 30 to 40 minutes until the zucchini are completely tender and the cheese is melted.
Serve hot.
More fantastic zucchini boat dinners
Quinoa and chicken stuffed zucchini boats
Easy cheeseburger stuffed zucchini boats
Vegetable stuffed zucchini boats