Healthy vegetarian lasagna roll-ups with whole wheat
I have always found that serving lasagna is a rather messy affair, haven't you? These lasagna roll-ups are wonderful. This technique lets you create individual-sized servings. And best of all, scooping them out of the pan couldn't be easier.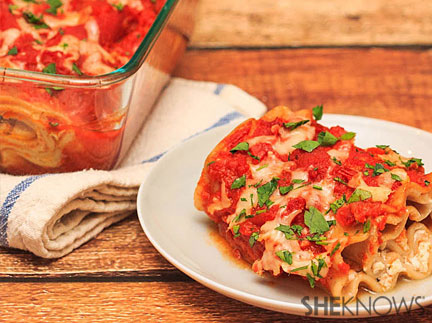 A satisfying weeknight dish made simple, easy and kid friendly!
Healthy vegetarian lasagna roll-ups with whole wheat
Makes about 20 servings
Ingredients:
8 cooked lasagna pieces
1/8 cup milk
6 ounces plain Greek yogurt
1/3 cup Parmesan cheese, grated
1 teaspoon salt
1/2 teaspoon pepper
1 cup mozzarella cheese, shredded
3 cups tomato sauce
Chopped fresh parsley for sprinkling
Directions:
Preheat oven to 375 degrees F.
In a bowl, stir together milk, yogurt, Parmesan, salt and pepper. Evenly spread mixture onto each of the cooked lasagna noodles. Sprinkle each with shredded mozzarella and roll. Leave about 1/4 cup of mozzarella for sprinkling on top.
Spread half the tomato sauce into a baking dish. Place each roll in the sauce with seam side down. Pour remaining tomato sauce over the rolls and sprinkle the rest of the mozzarella over top.
Cover with foil and bake for 30 minutes. Remove the foil and bake for another 15 minutes, until cheese is melted. Cool before serving and sprinkle with fresh parsley.
More healthy recipes
Sweet potatoes with balsamic maple glaze recipe
Harvest glazed carrots recipe
Roasted vegetables recipe