Cheesy chicken tater tot casserole
Tater tots, shredded chicken and cream of chicken soup are layered in a casserole dish and topped with cheese. This super-quick recipe is perfect for hungry kids.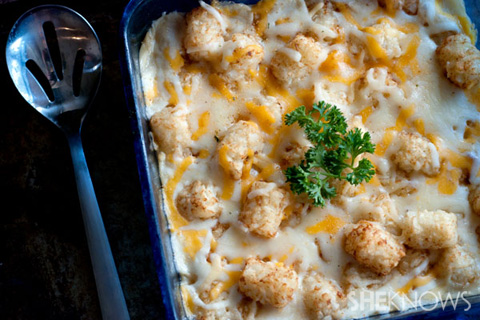 This super-easy dinner will leave both Mom and kids happy. Crunchy tater tots and shredded chicken make up this casserole dish. If you don't have cream of chicken soup on hand opt for cream of onion, mushroom or even celery since it will add a hint of flavor. If you want to keep this vegetarian simply lose the chicken and just make the recipe as is. This doubles as a light, comforting dinner or even as a side dish.
Cheesy chicken and tater tot casserole recipe
Yields 4-6 servings
Ingredients:
1 (10-3/4 ounce ) can cream of chicken soup
1/2 cup skim milk
1 (28 ounce) bag frozen tater tots
1 cup diced or shredded rotisserie chicken breast
1 cup shredded cheddar mozzarella cheese mix
Directions:
Preheat oven to 375 degrees F.
In a small bowl, add the soup and the milk mixing well. Pour the mixture into the bottom of a medium casserole dish.
Add the chicken over top of the soup mixture and then layer with the tater tots.
Top with the shredded cheddar cheese and bake for 25 minutes or until the tater tots are crunchy and the cheese has melted.
Serve warm.
More easy casserole recipes
15 Comfort food casseroles
Chicken, rice and veggie casserole
Garlic cashew chicken casserole