Homemade sweet potato tater tots with a cheesy avocado dipping sauce
Growing up with an amazing cook of a mother, we didn't have tater tots at home. That's why tater tot day at school was my absolute favorite. I'd stuff my face with as many tater tots as I could before waddling home. Those deep fried tots were delicious, but not exactly something you want your kids eating these days.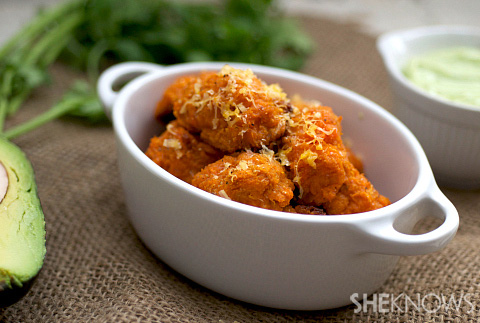 You will never want another deep fried tot again, trust me. These are perfectly crispy on the outside and soft and piping hot on the inside. Paired with a rich and creamy avocado sauce, these tots are the absolute best.
Baked sweet potato tater tots with creamy avocado dipping sauce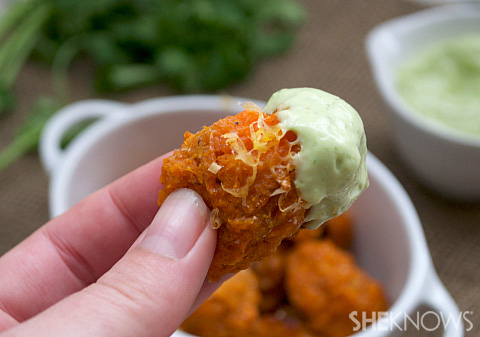 Recipe inspired by Little Leopard Book
Yields about 42 tots
Ingredients: 
For the tater tots: 
2 pounds (about 4 large) sweet potatoes*
1/2 cup whole wheat flour
2 teaspoons sea salt
1/2 teaspoon cinnamon
Cracked black pepper
For the sauce: 
1 large avocado
Juice from 1 lime
1/2 cup + 1 tablespoon light cream
1/4 cup Greek yogurt
Large handful of cilantro
1/2 teaspoon sea salt
1/2 teaspoon red pepper
Cracked pepper
*If you can't find the potatoes with the plastic film (that you microwave the potato in to steam), simply sub in regular potatoes.
Directions:
Place the sweet potatoes in the microwave. Microwave on high for about 10 to 15 minutes, or until the potatoes are soft. Remove the plastic wrap and let the potatoes cool.
Cut in half and shred into pieces with a box grater. Put the shredded potatoes into a large bowl. Add the flour, cinnamon, sea salt and cracked pepper. Mix with your hands.
Line 2 baking sheets with foil and brush with oil. Form the potatoes into tater tots and place on the baking sheets. Bake for about 35 to 45 minutes, or until crispy on the outside and soft on the inside.
To make the sauce, blend the avocado, lime, cream, Greek yogurt, cilantro, sea salt, black pepper and crushed red pepper until thick and creamy.
Serve the tater tots with avocado sauce.
More sweet potato recipes
Caramelized sweet potato skewers
Loaded Mexican stuffed sweet potatoes
Roasted sweet potato, gouda and fig jam sandwich