Slow cooker BBQ shredded chicken
A quick homemade barbecue sauce is the perfect marinade and sauce for this deliciously simple slow cooker shredded chicken.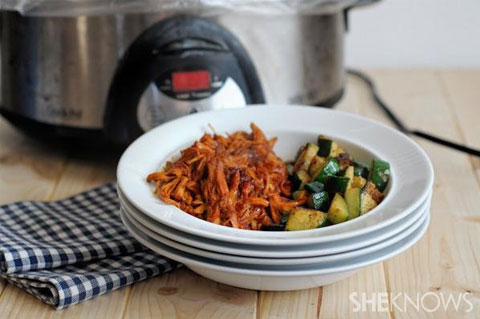 Slow cooker BBQ shredded chicken
Serves 6-8
Ingredients:
4 boneless, skinless chicken breasts
1 yellow onion, sliced very thinly
24 ounces ketchup
1/4 cup apple cider vinegar
1/4 cup brown sugar
1/4 cup ketchup
2 tablespoons Dijon mustard
2 tablespoons Worcestershire sauce
2 teaspoons garlic powder
1 teaspoon onion powder
Black pepper to taste
Directions:
Combine all ingredients, except the chicken, in a slow cooker.
Nestle the chicken into the sauce.
Cook on low for 5 to 6 hours, until the chicken shreds very easily with a fork.
Shred the chicken, then allow to cook 1 more hour.
Serve hot.
More flavorful shredded chicken recipes
Pulled chicken sandwiches
Buffalo pulled chicken sliders
BBQ chicken casserole