Fresh and fruity overnight breakfast quinoa
This hearty and healthy breakfast is the perfect way to start your day. Cooked quinoa is mixed with flax and chia seeds, sweetened and served up warm or cold with sweet fruit.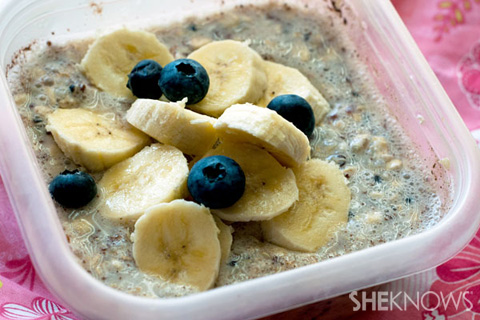 When you hear quinoa, you think of recipes for lunch or dinner until now. Quinoa is a super food with lots of benefits. It's gluten free and loaded with protein, fiber and is full of amino acids. This is a wonderful and easy breakfast recipe that I make for myself and also my whole family. You can make servings several days in advance and just keep it in the refrigerator until ready to eat. This is great both cold and warm and topped with your favorite fruits.
Fresh and fruity overnight breakfast quinoa recipe
Yields 4 servings
Ingredients:
1 cup gluten-free oats
2 cups cooked quinoa
2 tablespoons chia seeds
2 tablespoons ground flax seeds
1 tablespoon pure vanilla extract
2-3 cups vanilla almond milk
1/4 cup maple syrup, agave or honey
Pinch of salt
Fresh fruit for topping
Directions:
In a bowl, combine all of the ingredients and mix very well.
Cover the bowl with a lid or divide the mixture between 4 Mason jars or containers with lids and store in the refrigerator overnight or until ready to eat.
To serve enjoy cold or heat in microwave or on the stove and top with your choice of fresh fruits and drizzle with extra sweetener if desired.
More quinoa recipes
Whole Foods copycat California quinoa salad
Southwestern quinoa bake
Strawberry and basil quinoa salad