A sweet and savory taste of the rainbow
Sometimes the only way you can get your kids to eat anything is with food dye, and I'm 100 percent OK with that. That's why I created three fun and delicious rainbow recipes in fun colors your kids will adore.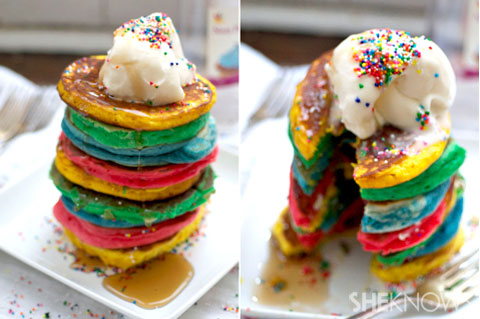 I mean, what kid would turn down a big stack of rainbow-colored pancakes? Or a cake that's tie-dyed with fun colors inside? Plus, these are just as fun for adults to eat as kids.
Bright funfetti rainbow pancakes
Recipe slightly adapted from Betty Crocker.
Serves about 8
Ingredients: 
1 cup Bisquick
1 cup white cake mix
1 cup low-fat milk
1 teaspoon vanilla
2 large eggs
Green, red, yellow and blue food dye
Fresh whipped cream of yogurt for garnish
Sprinkles
Oil for the pan
Directions:
Heat a skillet over medium heat and spray with nonstick cooking spray.
In a large bowl, mix the Bisquick, white cake mix, milk, vanilla and eggs. Stir until there are no more lumps.
Separate the mix into 4 bowls and tint each bowl with the different colored food coloring.
Pour about 2 tablespoons worth of 1 color of batter onto the skillet. Cook until 1 side bubbles up and then flip. Cook another 4 minutes. Repeat until all of the pancakes have been made in varying colors. Then serve stacked with whipped cream and sprinkles.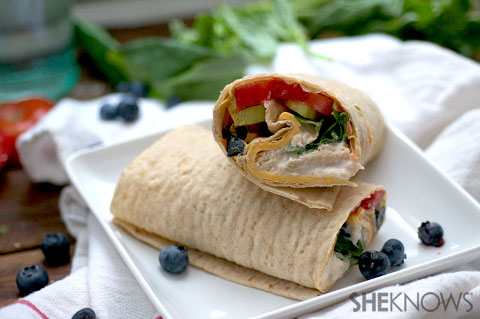 Healthy rainbow roll-ups
Serves about 2
Ingredients:
1 large lavash flatbread
1/2 can (6 ounces) chicken in water, drained
2 tablespoons low-fat mayo
1 celery stalk, chopped
1 medium carrot, shredded
2 slices American cheese
1 large plum tomato, sliced
A few fresh basil leaves
Blueberries
Salt and pepper to taste
Directions: 
Unroll the flatbread. Mix the chicken, mayo and celery together. Add pepper.
Layer the cheese, chicken, carrot, plum tomato, basil leaves, blueberries and additional pepper on 1 of the sides of the flatbread. Carefully fold over and roll up.
Slice in half and serve.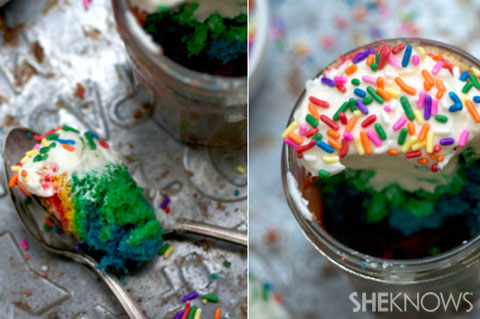 Gluten-free rainbow cakes in a jar
Slightly adapted from Babble.
Serves about 4
Ingredients: 
1 box white cake mix + ingredients listed
Red, green, yellow and blue food dye
1 stick butter
1-1/2 cups powdered sugar
1 tablespoon cream
Sprinkles
Directions: 
Preheat oven to 350 degrees F. Carefully spray Mason jars with nonstick cooking spray.
Mix the cake mix with the ingredients needed and stir until lumps are out. Separate into 5 bowls and tint each bowl purple, blue, green, yellow and red.
In each jar, layer the purple, green, blue, yellow and red. You only want to fill the Mason jars about halfway full since the cakes will rise up quite a bit.
Bake for about 32 minutes. If the cakes overflow, cut off the tops so you have room for frosting. Let cool.
While cakes cool, beat the butter, powdered sugar and cream until thick and fluffy.
Frost each Mason jar and add sprinkles for garnish.
More fun recipes for kids
Jalapeño popper chicken
Fun with deviled eggs
Fun fruit recipes for kids