Harvest grain 'n' nut waffles recipe
Give yourself an extra boost tomorrow morning with these sweet but hearty harvest grain 'n' nut waffles.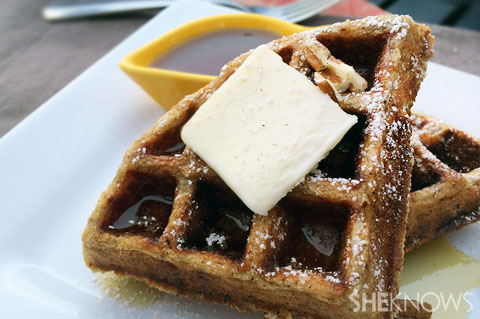 These waffles are hearty, sweet and fluffy with a little extra nutritional boost from oats and whole-wheat flour. The best part is, they're so foolproof, once Mom's toasted the oats, the kids can mix them up themselves.
Harvest grain 'n' nut waffles recipe
Yields 3-4
Ingredients:
2 cups rolled oats
1 cup white whole-wheat flour
3 tablespoons sugar
1 teaspoon baking powder
1 teaspoon kosher salt
1/2 teaspoon baking soda
3 large eggs, beaten
4 tablespoons butter, melted and allowed to cool
16 ounces buttermilk (at room temperature)
1/3 cup nuts, chopped (we used almonds and pecans, but anything works)
Directions:
Heat a large saucepan over medium heat and add the oats, stirring occasionally for about 3 minutes or until toasted. Don't allow them to burn. Allow the oats to cool in the pan for a couple of minutes, then grind the toasted oats in a food processor or coffee grinder until they're the consistency of flour.
Preheat the waffle iron according to the manufacturer's instructions.
In a large mixing bowl, whisk together the toasted oat flour, white whole-wheat flour, sugar, baking powder, salt and baking soda.
In a separate medium bowl, whisk the eggs and melted butter, then add the buttermilk and stir.
Add the wet ingredients and the nuts to the dry ingredients and stir until just combined. Allow the mix to rest for 5 minutes.
Grease the waffle pan generously, and ladle the amount of mix on as recommended by your manufacturer. Close the iron and cook according to the manufacturer's directions. Repeat until you've used all the batter.
More waffle recipes
Rye whiskey sweet potato waffles with maple cinnamon pecan butter
Broiled grapefruit waffles
Funfetti cake waffles