Italian smothered chicken
Not sure what to make out of your boring old chicken breasts? This smothered chicken recipe is sure to please your whole family. It's smothered in basil, tomatoes, artichokes and mozzarella.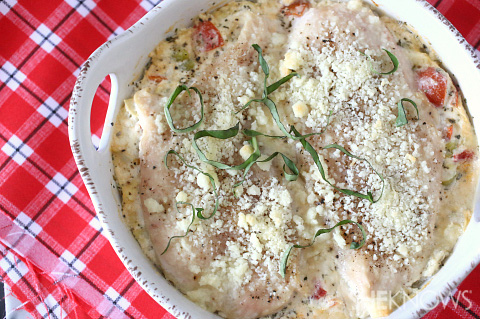 If you're looking for a rich and creamy dinnertime casserole, this smothered Italian chicken will knock your socks off. Around my house we are huge fans of anything smothered but it gets even better when I throw ricotta cheese and artichokes into the mix. Trust me, if you need a hearty dish to get your family smiling from ear to ear, this is the dish for you. It's even better when it's served hot over pasta.
Italian smothered chicken
Yields 4 servings
Ingredients: 
1 (8 ounce) container whole milk ricotta cheese
1 (14 ounce) can artichoke hearts, drained
1/2 cup mozzarella cheese
12 cherry tomatoes, quartered
6 pepperoncini, sliced
2 tablespoons sliced roasted red pepper
2 teaspoons Italian seasoning
4 boneless, skinless chicken breast cutlets
Salt and pepper, to taste
1/3 cup Parmesan cheese
Fresh basil, for topping (optional) 
Directions: 
Preheat oven to 350 degrees F.
In a medium-sized mixing bowl, add ricotta cheese, artichokes, mozzarella cheese, tomatoes, pepperoncini, red pepper and Italian seasoning. Mix together until combined.
Add mixture to 8 x 8-inch casserole dish and top with chicken breast cutlets. Season each cutlet with salt and pepper and sprinkle with Parmesan cheese.
Add to preheated oven and bake for about 40 minutes until the chicken is fully cooked.
Serve hot with or without pasta.
More chicken recipes
Buffalo chicken tater tot casserole
Chicken Parmesan burger
Chicken Parmesan meatball