Dinner Shortcuts: Sweet Asian skillet supper
Sweet and full of flavor, you're going to love this easy and quick supper.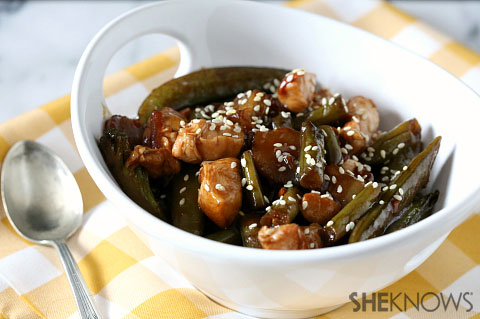 I'm always on the lookout for quick weeknight dinners. Even if I have had the day off, most of the time I'm so tired by the time dinner rolls around I don't want to spend an hour cooking. This super simple sweet Asian skillet supper combines chicken, frozen vegetables and store-bought Teriyaki marinade. This is one delicious dish.
Sweet Asian skillet supper
Yields 2-4 servings
Ingredients: 
2 tablespoons sesame oil
1 pound diced boneless skinless chicken breast
1 (16 ounce) bag frozen stir-fry vegetables
1/2 cup teriyaki marinade
Cooked rice, optional
Directions: 
In a large skillet set over medium heat, add oil. Once the oil is hot add in chicken and cook until just about fully cooked.
Add in frozen vegetables and teriyaki marinade. Cook over medium heat until the vegetables are warmed, the meat is fully cooked and the sauce is thickened.
Serve plain or over the top of rice.
More Dinner Shortcuts recipes
Greek meatball sliders recipe
Italian sub crescent roll-ups recipe
Chicken and rice casserole recipe