Dinner Shortcuts: Quick biscuit calzones
Need dinner quick? This 15-minute calzone can be packed with any filling you want and is perfect for the quick weeknight rush.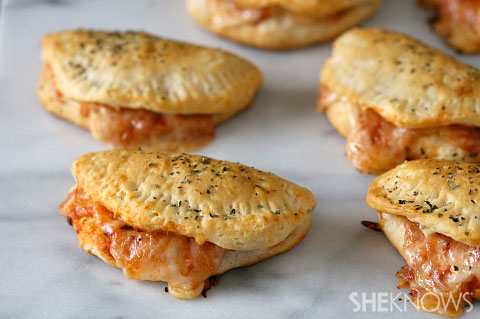 Calzones are delicious but these biscuit calzones are even more delicious. They are packed full of sauce and cheese but can easily be customized to include just about anything you love — pepperoni, onion or sausage. Trust me, if you love pizza you're going to love this recipe. Plus they are extra delicious when dipped in warm marinara.
Quick biscuit calzones
Yields 8 mini-calzones
Ingredients:
1 (8 count) can refrigerated large biscuits
1/2 cup marinara sauce
1 cup shredded cheese
Italian seasoning
Directions: 
Preheat oven to 375 degrees F and line a baking sheet with parchment paper.
Open biscuits and flatten until about 1/4-inch thick.
Spread about 1 tablespoon of sauce onto half of the biscuit.
Top with an equal amount of cheese, fold over, press together and sprinkle with Italian seasoning.
Bake for about 15 minutes until browned.
Serve with more marinara sauce if desired.
More Dinner Shortcuts recipe
Creamy tomato tortellini soup recipe
Italian sub crescent roll-ups recipe
Pesto pasta with peas and chicken sausage recipe