Dinner Shortcuts: S'mores stacked pancakes
These pancakes are sweet and totally over the top. Plus they use a few shortcuts that make it even easier.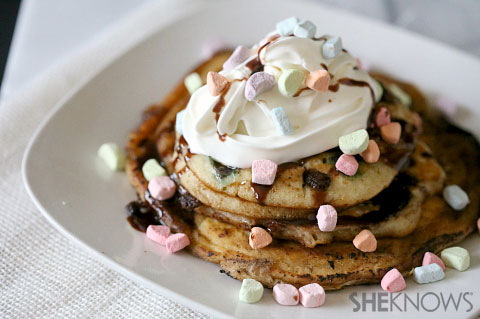 I would say this pancake recipe is just for the kids but that would be a lie. I'm such a sucker for s'mores that it's just as much fun for me as it is the kids. You could easily use soft marshmallows found in the store but I opted to use small (and colorful) mini dehydrated marshmallows I happened to have sitting in my pantry. These pancakes are perfect for breakfast, brunch or even dinner.
S'mores stacked pancakes
Yields 6 pancakes
Ingredients:
1 package pancake mix (enough to make 6 small pancakes)
6 tablespoons dark chocolate chips
6 tablespoons mini dehydrated marshmallows
Whipped cream
Chocolate syrup
Directions:
Preheat a griddle to 350 degrees F.
Prepare the pancake mix according to box directions. Make sure to make enough mix to make 6 pancakes.
Pour enough batter to make about a 4-5-inch pancake onto the griddle. Depending on the size of the griddle you may have to do this in a couple of batches.
Sprinkle 1 tablespoon of dark chocolate chips and 1 tablespoon of marshmallows onto the pancake.
When the batter starts to bubble slightly and the underside of the pancake is golden brown, give the pancake a flip.
Cook until the other side is slightly golden.
Remove from the griddle and top with whipped cream and a drizzle of chocolate syrup.
If you really want to make it sweet, sprinkle with a little more mini marshmallows.
More Dinner Shortcuts recipes
Stovetop meatloaf recipe
BBQ chicken quesadilla recipe
Monte Cristo crescent roll-up recipe