Dinner Shortcuts: Simple chicken noodle soup
Need some soup to warm up your night? This simple chicken noodle soup is delicious and ready in just about 30 minutes.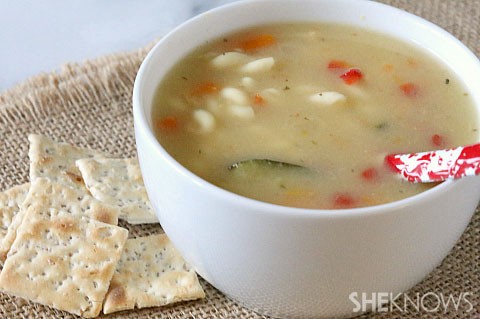 We eat chicken noodle soup in our house on a fairly regular basis. It's not just for sick or rainy days. It's full of vegetables, stock, noodles and shredded rotisserie chicken. Since you're using precooked chicken you can have this soup ready in just about 30 minutes. You're going to love it!
Simple chicken noodle soup
Yields 6 servings
Ingredients:
2-3 tablespoons olive oil
1 cup chopped carrots
1 cup chopped celery
1 cup chopped onions
2 cloves garlic, minced
1/2 teaspoon dried Italian seasoning
1 bay leaf
8 cups chicken stock
1 rotisserie chicken, meat picked off
1 bag egg noodles, cooked (according to package directions)
Directions:
In a large soup pot, add olive oil set over medium heat.
Add in carrots, celery and onions. Sauté until just starting to get soft.
Add in garlic and sauté until just fragrant.
Add in Italian seasoning, bay leaf and stock.
Simmer on medium for about 20 minutes until vegetables are soft.
Throw in chicken and simmer for 5 minutes just to heat the chicken through.
Add a handful of noodles to a bowl and pour hot soup over. Enjoy plain or with a sprinkling of Parmesan cheese if desired.
More Dinner Shortcuts recipes
Stovetop meatloaf recipe
BBQ chicken quesadilla recipe
Monte Cristo crescent roll-up recipe