Dinner Shortcuts: Asian chicken salad
This salad is perfect for dinner or lunch. Just use grilled chicken from the deli and you can be done in under 10 minutes.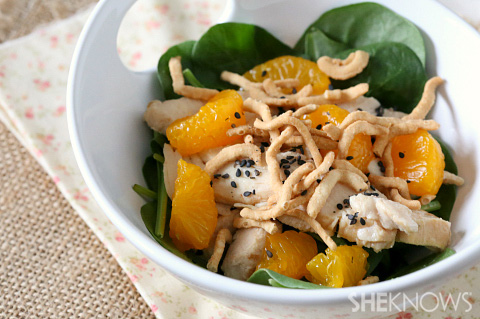 Did you know you can buy grilled chicken from the grocery store deli? It wasn't until last week that I even knew this was possible. As I stood staring at the deli case I saw they offered up whole freshly grilled chicken breasts. Sign me up. They are the perfect shortcut to my workday lunches and quick dinnertime rush. This salad uses store-bought grilled chicken breasts, lots of fresh baby spinach, mandarin oranges and a quick sesame seed dressing. You're going to love it.
Asian chicken salad
Yields 2 servings
Ingredients:
6 cups baby spinach
2/3 cup mandarin oranges
2 grilled chicken breasts, sliced
2 tablespoons chow mein noodles
1/4 cup sesame oil
2 tablespoons honey
2 tablespoons rice vinegar
1 tablespoon black sesame seeds
1 tablespoon orange juice
1 clove garlic
Salt and pepper, to taste
Directions:
In 2 large bowls, add equal amounts baby spinach, oranges, chicken and chow mein noodles.
In a small bowl, whisk together sesame oil, honey, rice vinegar, sesame seeds orange juice, garlic, salt and pepper.
Drizzle over salad and toss to combine.
More Dinner Shortcuts recipes
Corn dog muffin recipe
Taco mac casserole recipe
Oven baked meatball sub recipe