Dinner Shortcuts: Sweet potato mash
Boxed potatoes get a makeover when mixed with nutritious sweet potatoes. This is one easy dinner side dish.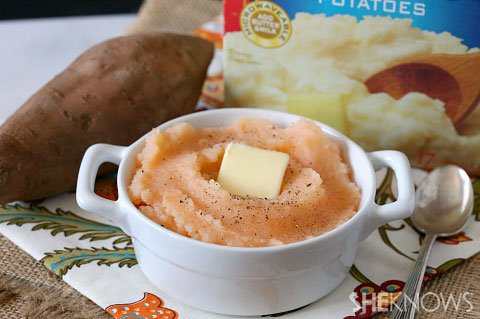 Not sure how to make that last sweet potato stretch to feed the whole family? Don't worry, this quick and easy side dish is perfect for your table. I have made this recipe a couple of times to help serve my hungry family and it has always been a hit.
Sweet potato mash
Serves 4-6
Ingredients: 
2 medium sweet potatoes, peeled and diced
Instant mashed potatoes
2 tablespoons unsalted butter
Milk
Kosher salt and pepper, to taste
Directions:
Add diced sweet potatoes to a pot and cover with water. Boil on high heat until fork tender, drain.
Prepare 4 servings of instant mashed potatoes according to box directions.
Add cooked sweet potatoes to instant potatoes. Mash and mix together.
Stir in milk if needed to thin and season with salt and pepper to taste.
More Dinner Shortcuts recipes
Stovetop meatloaf recipe
BBQ chicken quesadilla recipe
Monte Cristo crescent roll-up recipe