Dinner Shortcuts: Garlic bread chicken sliders
Who needs buns when you have garlic Texas toast? You're going to love this sandwich.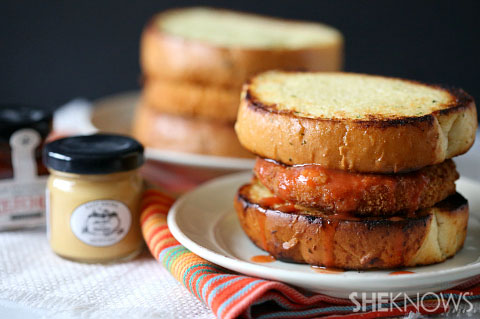 Sometimes the thought of making dinner completely exhausts me. I know that probably sounds horribly dramatic but sometimes I just don't want to cook but at the same time I don't want to spend a fortune on takeout or delivery. Luckily I came up with my new quick and easy dinnertime sandwich. Instead of using boring regular bread I use toasted garlic Texas toast and then pair it with a fried chicken patty. I like to smother my chicken in Frank's Hot Sauce but it's also great topped with marinara and cheese.
Garlic bread chicken sliders
Yields 2 sandwiches
Ingredients: 
4 slices garlic Texas toast
2 breaded chicken patties
1/4 cup Frank's Red Hot Sauce
3 tablespoons melted butter
Blue cheese dressing, if desired
Directions:
Preheat your oven to 350 degrees F. To a baking pan, add Texas toast and chicken patties.
Bake for about 7 minutes and flip the bread.
Bake for another 7 minutes and then remove the bread from the oven and wrap in foil to keep warm.
Flip the chicken patty and put back in the oven.
Cook for about 15 minutes until the patty is lightly browned and warmed.
While the chicken is cooking melt butter and whisk in hot sauce.
Remove chicken from the oven, place onto 1 piece of Texas toast, drizzle with hot sauce and blue cheese dressing, if desired. Top with another slice of Texas toast.
Repeat with other sandwich.
More Dinner Shortcuts recipes
Stovetop meatloaf recipe
BBQ chicken quesadilla recipe
Monte Cristo crescent roll-up recipe