Modern Mom: How to avoid tantrums at the dinner table
We've all been there — you go out to eat with a toddler in tow and things just don't go as planned. Here's how to avoid a toddler meltdown at the dinner table.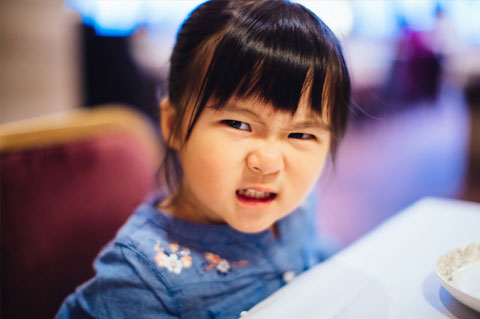 If you're going out to eat with a toddler, avoiding tantrums is almost a necessity. Sure, people usually understand that toddlers cry and get frustrated rather quickly. But honestly, as a mom of two under two, those people are paying good money to go out to eat and probably do not want to hear your child screaming in the background. If, like me, you do decide to take this risk once in a while, you have to be prepared. And — even if you're just eating at home — who wants to deal with a screaming toddler throughout the meal? Not me, that's for sure. Here are four ways to avoid a meltdown and eat in peace.
Walk it out
I dined at The Cheesecake Factory last weekend with my adorable, yet incredibly rambunctious, almost 2-year-old. Things were good at first, as she was very distracted by the book-like menu and the bread and butter served beforehand. We ordered our food and after about five minutes things took a turn for the worse. Screaming, throwing utensils, smashing butter packets — you name it, she did it. Instead of getting frustrated, I decided to go outside with her and walk around the building. It took about 10 minutes, burned off some of her energy, and by the time we got back the food had arrived.
So… be willing to go on a nice long walk if need be.
Come prepared
Even with two little ones, I'll admit that I've somehow managed to forget diapers when we go out, much less snacks and toys (lack of sleep, perhaps?). When I am prepared, my toddler is occupied and I'm able to enjoy my dinner. Some ideas of what to bring include:
A coloring book and crayons (luckily, most restaurants provide these)
Stickers and paper (my daughter loves transferring them to the paper and back to the sticker pad)
Plastic snack bags with apple slices, goldfish and crackers (you know, in case the little one won't eat the food you order for them)
Silly putty or Play-Doh (for younger kids, use silly putty)
Etch A Sketch (so simple, yet keeps the little ones entertained)
iPhone or iPad (if all else fails, it's OK to resort to technology… we've all been there)
Tip: Keep these toys and items reserved for dinner time only. For example, if they play with the Etch A Sketch all day, it won't keep them busy at dinner.
Make your stay short
Unfortunately, eating and enjoying long dinners are a thing of the past. Toddlers just don't have the attention span to sit in one spot for hours on end. My husband and I try and order our meal when the server comes to get our drink order. This shortens our wait time for the food immensely. You can also order menu items that are simpler to cook and prepare — such as a bowl of chili, a Caesar salad or a burger and fries. We're also huge dessert fans, but now we order it to go and have it as a special treat once the kids are in bed.
Tip: If you do need to stay longer, go to a kid-friendly restaurant or even a fast food restaurant with a play place.
Go during their prime time
If your toddler goes to bed at 7 p.m. each night, try to eat dinner or go out around 5 p.m., no later. This is when your child should be at their "best" — not too tired, and most likely hungry. This also allows plenty of downtime after the meal for your child to wind down, read books and settle into bed. I know, for example, that if my toddler doesn't take a good nap that day (or none at all), there's very little hope of enjoying a meal. Keep your routine as consistent as possible on the day you plan on eating out.
Remember that these years are very short-lived and there will be a time when you can eat out again. I've adapted a very 'go-with-the-flow' type attitude. There have been times where naps have been perfect and our day has gone incredibly smooth, yet we still have meltdowns during dinner. It's then that I'm scarfing down my food or ordering it to go. Be patient and as prepared as possible, and even then know that the plan may fail completely.
More Modern Mom
Modern Mom: Helping kids with food allergies
Modern Mom: Easy ways to limit sugar
Modern Mom: 5 Healthy habits to pass on to your kids
Photo credit: images by Tang Ming Tung / Flickr Open / Getty images