Dinner Shortcuts: Open face tuna and spinach melt
Need a quick meal? This open face tuna melt is perfect for lunch or dinner! Plus the addition of spinach brings even more deliciousness to the dish.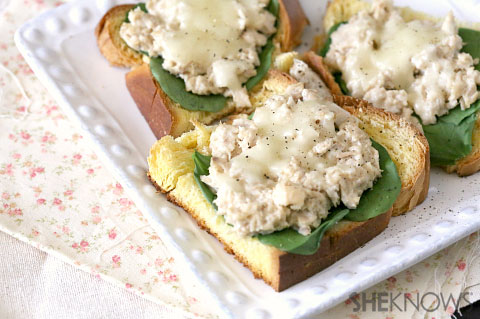 I have always been a fan of tuna melts. I know it's weird to pair fish with cheese but for some reason it just seems to work when it's tuna salad. This dish is fairly simple but because it's open face you can load it up with healthy spinach, homemade tuna salad and just a sprinkling of shredded cheese.
Open face tuna and spinach melt
Yields 2 servings
Ingredients:
2 pouches albacore tuna
1/3 cup mayonnaise
Kosher salt and pepper, to taste
4 slices bread
Fresh baby spinach
1/4 cup shredded cheese
Directions: 
In a medium-sized mixing bowl, add tuna, mayonnaise, salt and pepper. Mix together until creamy. Add more mayonnaise if you want your tuna salad more creamy.
Lay out the bread on a baking sheet and cover each slice with baby spinach, equal amounts of tuna salad and cheese.
Turn on the broiler to low heat and add the baking sheet to the oven. Let broil until the cheese is melted and the tuna is slightly warmed, about 5 minutes.
More Dinner Shortcuts recipes
Stovetop meatloaf recipe
BBQ chicken quesadilla recipe
Monte Cristo crescent roll-up recipe