Dinner Shortcuts: Ham and cheese noodle casserole
This delicious ham and cheese noodle casserole is perfect for the crazy weeknight rush.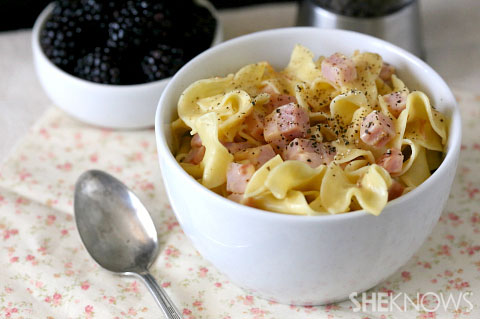 Dinnertime rush is my all-time least favorite time of the day. Everyone is hungry and time is short. This simple recipe can be ready in less than 30 minutes and is creamy, full of flavor and beyond easy. Trust me, there are no more hungry kids in the house after this dish!
Ham and cheese noodle casserole
Yields 8 x 8-inch dish
Ingredients:
8 ounces egg noodles
2 cups diced ham
1 can cream of chicken or mushroom soup
1/3-1/2 cup milk
1 cup shredded cheese
Salt and pepper, to taste
Directions:
Bring a medium-size pot of water to a boil over high heat. Add in noodles and cook until al dente. Drain and add back to pot.
Stir in ham, soup, 1/3 cup milk and shredded cheese. Add the pot over low heat just to warm but careful not to burn.
If the mixture is too thick, simply add in a little more milk until the mixture reaches your desired consistency.
More Dinner Shortcuts recipes
Greek meatball sliders recipe
Italian sub crescent roll-ups recipe
Chicken and rice casserole recipe