Greek pizza muffins
Wondering what you can do to liven up a lunchbox or jazz up snack time? These pizza-style muffins will do the trick!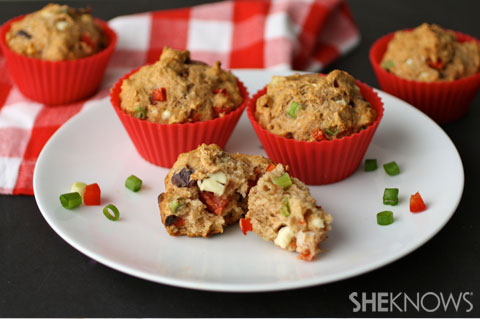 Whether you're looking for a fun lunchbox idea or an after-school snack, Greek pizza muffins are the way to go! Fun to eat and full of hidden gems, your kids will enjoy the great flavors of pizza in this convenient form.
Greek pizza muffins
Yields 12
Ingredients:
1-1/3 cups whole wheat flour
1/2 cup all-purpose flour
2 teaspoons baking powder
1/2 teaspoon dried oregano
1/2 teaspoon salt
1/8 teaspoon ground black pepper
1 egg
1 cup milk
1/4 cup diced tomatoes with juice (or use your favorite pizza sauce)
1/4 cup diced Greek olives, pits removed
1/4 cup diced red bell pepper, seeds and membrane removed
2 diced green onions, white and green parts
1/4 cup crumbled feta cheese
Nonstick cooking spray
Directions:
Preheat oven to 400 degrees F. Lightly spray a regular-sized muffin tin with the nonstick cooking spray (you could also use paper or silicone baking liners) and set aside.
In a large bowl, add the flour, baking powder, oregano, salt and black pepper. Whisk to combine. Make a well in the center of the mixture and set aside.
In a separate bowl, beat the egg and add the milk, tomatoes, olives, bell pepper, green onion and feta cheese. Mix to combine.
Add the wet mixture to the well of the dry mixture and stir until combined.
Add the batter to the muffin tin, filling each well about 3/4 full.
Bake for 20 to 24 minutes, or until the tops of the muffins turn golden. Allow to cool slightly before serving, either warm or at room temperature.
More lunch and snack ideas
DIY lunchables for kids
Veggie wraps for lunchboxes
3 No-bake snacks for kids