A-B-C frittata
When you're short on time, this meal comes together quickly to satisfy your family. Follow it to the letter for a great meal!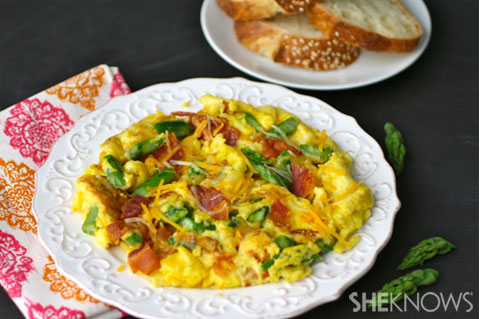 Your kids will love to go over the ABCs of this dinnertime recipe for asparagus, bacon and cheddar frittata! Just because it's easy to put together doesn't mean you'll miss out on great flavors. When you're looking for something easy to make that's filling and flavorful, this frittata fits your needs to a T!
Serve this dish with a green salad and hearty bread and you'll have a filling meal on the table in minutes.
A-B-C frittata
Serves 2-4
Ingredients:
3 eggs
1 tablespoon butter
4-5 spears asparagus, ends trimmed, cut into 1-inch pieces
3 slices cooked bacon, cut into small pieces
1/2 cup shredded cheddar cheese, plus extra to sprinkle on top
1/2 teaspoon salt
1/4 teaspoon ground black pepper
Directions:
Blanch the cut asparagus by submerging the pieces in boiling water for 3 minutes. Drain the asparagus, then submerge it in ice water. Drain and set aside.
Beat the eggs in a medium bowl and add the salt and pepper. Mix well.
Heat the butter in a 10-inch ovenproof skillet over medium heat. When hot, pour the eggs into the skillet and gently move them to evenly distribute them.
Just as the eggs begin to set, add the asparagus, bacon and cheese evenly over the eggs.
Cook for about 4 minutes without stirring. Use a rubber spatula to run around the edges of the frittata as it cooks, so the edges don't stick and burn.
When the outer edges of the frittata have set but the center is still slightly runny, remove the pan from the heat and place it in an oven set to broil.
Keep a close watch so the frittata doesn't burn. After a few minutes, when the top of the frittata has set and begins to turn golden, carefully remove the pan from the oven. Allow the frittata to sit for a few minutes.
Use a rubber spatula to run around the edges and underside of the frittata, and slide it onto a round serving plate.
Sprinkle with extra cheese, slice it and serve warm or at room temperature.
More dinnertime recipes