Grilled peanut butter, banana and honey sandwich
Creamy peanut butter, sweet honey and sliced bananas are piled high on whole grain bread and toasted. This warm filling sandwich is perfect for breakfast, lunch or even dinner.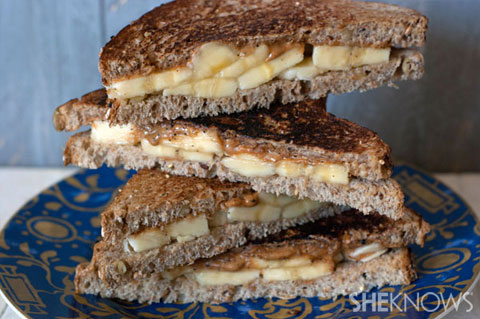 If you're a fan of peanut butter and if you love bananas, then this is one tasty sandwich you have to try. Instead of serving this sandwich cold or at room temperature, I decided to toast it in a pan to help melt the peanut butter and honey and make this sandwich warm with a gooey inside. My kids love this for breakfast but we even make it for lunch and sometimes dinner.
Grilled peanut butter banana and honey sandwich recipe
Yields 2 sandwiches
Ingredients:
1 tablespoon butter
4 slices whole grain bread
1 large or 2 small bananas, sliced
1/4 cup creamy all-natural peanut butter
2 tablespoons honey
Ground cinnamon
Directions:
Heat a large pan over medium-high heat.
Divide the peanut butter and sliced bananas between the 2 slices of bread.
Drizzle desired amount of honey over the tops of the bananas and sprinkle with cinnamon and top with remaining slice of bread.
Add the butter to the heated pan and allow it to melt. Place both sandwiches in the pan and toast for 2 to 3 minutes on each side.
Cut in half or into smaller pieces for younger children and serve warm.
More yummy sandwich ideas
Sandwiches on a stick
5 Fun and unique sandwich recipes
12 Creative grilled cheese sandwiches