Root beer float cupcakes
Bored with the standard cupcake fare? Mix it up with these root beer float cupcakes. Trust us, you won't miss the ice cream.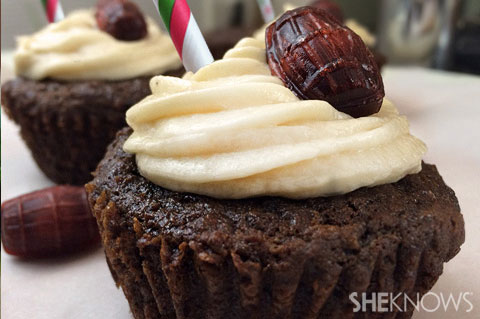 Homemade root beer syrup and creamy root beer buttercream come together to make a cupcake you'd swear you could sip. The little root beer candy barrels are optional, but highly recommended both for the pizzazz they add and the extra candy treat at the end.
Root beer float cupcakes recipe
Yields 12
Ingredients:
2 cups root beer
1/4 cup sugar
1 tablespoon molasses
2 teaspoons vanilla extract, divided
1 egg, lightly beaten
1/2 cup plus 4-5 tablespoons heavy whipping cream, divided
1 stick butter, melted
2 tablespoons sour cream
1-1/8 cups all-purpose flour
1/4 cup dark cocoa powder
1-1/4 teaspoons baking soda
1/2 teaspoon salt
1 teaspoon instant espresso powder
3/4 cup dark brown sugar
1 stick unsalted butter, room temperature
3-3/4 cups powdered sugar
12 root beer barrel hard candies
Directions:
In a small pot over medium-high heat, bring the root beer, sugar, molasses and 1 teaspoon of vanilla to a boil, reducing it to about 1/2 cup, then reduce the heat to a simmer and continue reducing until it's about 1/4 cup. The whole process should take 30 to 45 minutes. Remove from the heat and let cool.
Preheat the oven to 350 degrees F.
In a medium bowl, whisk the egg, 1/2 cup plus 1 tablespoon whipping cream, melted butter and the remaining 1 teaspoon of vanilla until well combined. Stir in the sour cream.
Sift together the flour, cocoa powder, baking soda, salt, espresso powder and brown sugar, then add them to the wet mixture. Add 2 tablespoons of root beer syrup and mix until the batter is just combined. It should be a bit thick and sticky-looking.
Line a muffin tin with cupcake liners and add the batter to each cup until they're about 2/3 of the way full.
Bake for 15 to 18 minutes or until a toothpick comes out clean. Let them cool completely on a wire rack before frosting.
Meanwhile, make the buttercream by placing the unmelted butter in a bowl and beating it with an electric or stand mixer until it's light and fluffy, about 30 to 60 seconds. Add the sugar, 3 tablespoons of whipping cream and 1 tablespoon of the root beer syrup, then beat the frosting, starting on low and increasing the speed until the frosting is creamy. Add more cream if the frosting is too thick.
When the muffins are cool, glaze them lightly with the remaining root beer syrup.
Use the handle of a wooden spoon to poke a hole into the center of the cupcakes, being careful not to go all the way through. Pipe a little buttercream into each hole, then frost the top with more buttercream.
Top each cupcake with a root beer barrel candy.
More cupcake recipes
Milk and cookies unite in one amazing cupcake
Tie-dyed Mardi Gras cupcakes
Lavender cupcakes with Earl Grey icing