Spinach and cheese phyllo roll-ups
Phyllo dough is stuffed with spinach and creamy cheeses and then rolled up and baked. These are perfect for an after-school snack or as a side dish with dinner.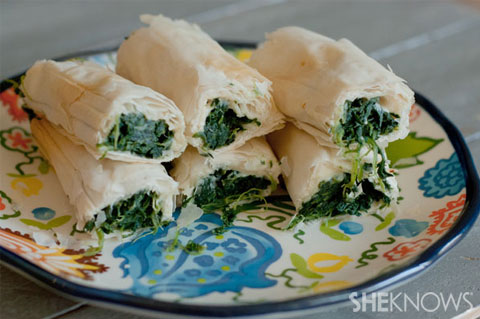 These easy little snacks are perfect for hungry kids after school, as a side dish for dinner or you can even pack them in your child's lunchbox. The phyllo dough is very light and flaky while the spinach makes for a healthy filling. I added just a little bit of cheese to the spinach to give it a creamy flavor without making these roll-ups heavy. If your child doesn't care for spinach, opt for broccoli and cheese for the filling. Remember this type of dough is very thin and fragile so handle it with care. A helpful tip when using phyllo is to keep the dough covered with a damp dish towel while working with it to keep it from cracking.
Spinach and cheese phyllo roll-ups recipe
Yields 8-10 servings
Ingredients:
1 roll phyllo dough, thawed
2 cups frozen spinach, thawed and drained very well
1/2 cup cream cheese, softened
1 teaspoon garlic powder
Salt and pepper to taste
2 tablespoons butter, melted
Directions:
Preheat oven to 375 degrees F and line a large baking sheet with parchment paper.
In a bowl, combine the spinach, cream cheese and seasonings and mix well.
Very carefully roll out the phyllo dough. Take 3 to 4 sheets of the dough and spoon the spinach mixture on 1 end and carefully begin to roll up. Repeat with the remaining dough and spinach mixture.
Place all of the rolls on the baking sheet and brush with melted butter.
Bake for 15 minutes or until the tops of the rolls are golden brown. Slice into pieces and serve warm or at room temperature.
More recipes using spinach
Strawberry spinach salad with maple balsamic dressing
Lemon chicken soup with orzo and spinach
Pepperoni and spinach stuffed bread