Dinner Shortcuts: Cheesy chicken crescent packets
Use up your crescent rolls by making some delicious cheesy chicken packets. Hello dinner!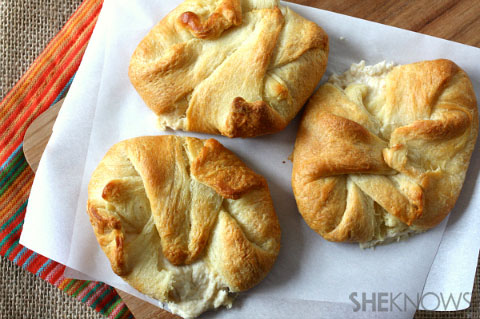 Growing up, chicken-stuffed crescent packets were my favorite. My mom used to make them a bit different but through the years I started throwing in a few more ingredients. I especially love the addition of shredded cheese because it makes them even more cheesy and delicious.
Cheesy chicken crescent packets
Yields 4 packets
Ingredients:
1 (8 count) refrigerated crescent rolls
12 ounces shredded chicken
4 ounces cream cheese, room temperature
1/2 cup shredded milk cheddar cheese
2 tablespoons finely diced onion
2 tablespoons finely diced celery
1/4 cup diced steamed broccoli
Kosher salt and pepper, to taste
Directions: 
Preheat oven to 375 degrees F and prepare a baking sheet with parchment paper.
Unroll crescent rolls and press 2 rolls together at the seams, creating 4 large crescent rolls.
In a bowl, stir together chicken, cream cheese, shredded cheese, onion, celery, broccoli, salt and pepper.
Add mixture to the middle of each large crescent roll and bring up the corners of the crescent roll. Try to get the crescent corners as closed as possible. Pinch together any holes that may open.
Bake for about 25 minutes until the packets are browned and the filling is warm.
More Dinner Shortcuts recipes
Stovetop meatloaf recipe
BBQ chicken quesadilla recipe
Monte Cristo crescent roll-up recipe