Dinner Shortcuts: Baked sausage and tortellini casserole
Load up this casserole with sausage and lots of cheesy tortellini. Hello easy weeknight dinner!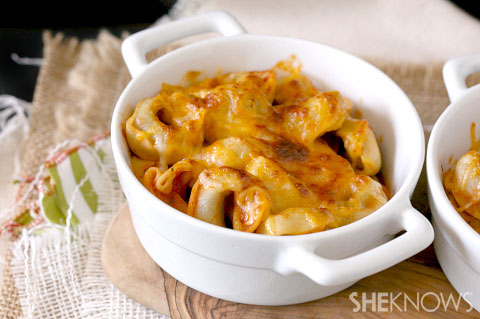 My husband just recently went back to school for his master's degree. Weeknight dinner rush is worse than usual. There are nights where he isn't getting home until past 8 p.m. and it just feels like it's almost too late to cook. Luckily there are meals like this tortellini bake. I can have it ready to eat in under 30 minutes!
Baked sausage and tortellini casserole
Yields 8 x 8-inch dish
Ingredients:
1 pound bag frozen cheese tortellini
2 cups tomato basil sauce
1 pound spicy pre-cooked chicken sausage
1/2 cup shredded cheese
Directions: 
Pre-heat oven to 350 degrees F.
Cook tortellini according to bag directions.
Once cooked, drain and add back to pot. Stir in tomato sauce and chicken sausage.
Add to an 8 x 8-inch casserole dish and top with shredded cheese.
Bake for 20 minutes until hot and bubbly and the cheese is melted.
More Dinner Shortcuts recipes
Stove top meatloaf recipe
BBQ chicken quesadilla recipe
Monte Cristo crescent roll-up recipe