Super cheesy green shells
If you had to pick between a salad and a big bowl of creamy mac 'n' cheese, you'd probably pick the mac n' cheese. I mean, I don't blame you. Who wants lettuce when you can have cheese? To make eating light just a smidge easier at home, I decided to mix my salad into my macaroni, turning it into a decadent and super healthy mac 'n' cheese.
Now you don't have to choose between a healthy salad and your favorite comfort food! This ultra-creamy mac 'n' cheese tastes even better than the kind your mama used to make and is also secretly loaded with healthy vitamins, minerals and antioxidants. Indulgent, cheesy and secretly healthy? Sign me up baby!
Super cheesy green shells
Serves about 6-8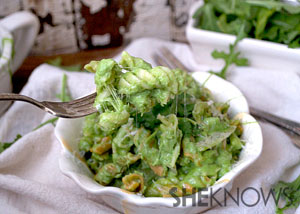 Ingredients: 
1/2 pound multicolored spiral noodles
1 tablespoon unsalted butter
1/2 large yellow onion, diced
2 cloves garlic, minced
3 cups fresh-packed baby arugula
1/3 cup boiling water
1/4 cup (4 tablespoons) unsalted butter
1/2 cup low-fat milk
1/2 cup light cream
1/2 cup white cheddar cheese, shredded
1/2 cup mozzarella cheese, shredded
Salt and pepper to taste
Fresh Parmesan for garnish
Directions: 
Bring a large pot of water to a rapid boil. Add the pasta and a dash of salt. Cook until al-dente, about 8 minutes. Rinse in cold water and set aside.
In a large blender, blend the boiling water and arugula until pureed.
Meanwhile, melt the butter in a medium saucepan over medium-high heat. Add the onion and garlic. Cook until starting to soften, about 4 minutes. Carefully whisk in milk and cream, 1/2 cup at a time. Reduce heat to low and whisk constantly until mixture thickens (it should coat the back of a spoon). Stir in the arugula puree and cook another 2 to 3 minutes, or until fully combined. Remove from heat and immediately stir in cheeses.
Add salt and pepper to taste and toss in the pasta. Coat with tongs until noodles are fully covered in cheese sauce. Serve immediately.
More St. Patrick's Day dinner recipes
A traditional Gaelic St. Patrick's Day menu
Traditional Irish dinner
Have a low-carb St. Patrick's Day