Leprechaun cookie bark
Dessert bark isn't just for Christmas. This cookie bark is packed with candy and lots of festive sprinkles.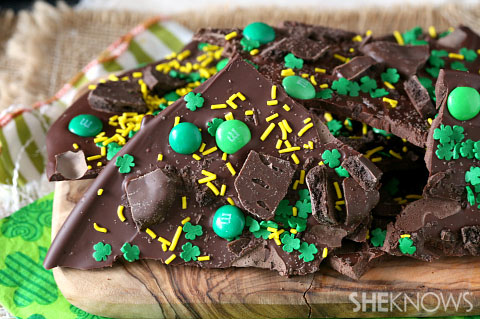 Every now and again I get a major craving for all things chocolate. This St. Patrick's Day, I got into the kitchen and opted to make something super sweet and chocolaty to curb my cravings. I used rich semisweet chocolate and topped it with chopped Thin Mint cookies, M&M'S and lots of festive sprinkles. Your kids will love this!
Leprechaun cookie bark
Yields 4 servings
Ingredients:
16 ounces semisweet chocolate morsels
1/2 cup chopped Thin Mint cookies
1/4 cup green M&M'S
2 tablespoons St. Patrick's Day sprinkles
Directions:
Melt chocolate and spread into a thin layer on a Silpat or parchment-lined baking sheet.
Gently press the cookies, M&M'S and sprinkles into the melted chocolate.
Let the chocolate rest for about 30 minutes until hardened. Break into chunks and enjoy.
More St. Patrick's Day recipes
Guinness ice cream float recipe
Irish coffee fudge recipe
Green velvet pancake recipe