Slow cooker tomato basil soup
Even though the weather is starting to get warmer it's still soup weather. This flavorful soup is perfect for workdays because you can make it in the slow cooker.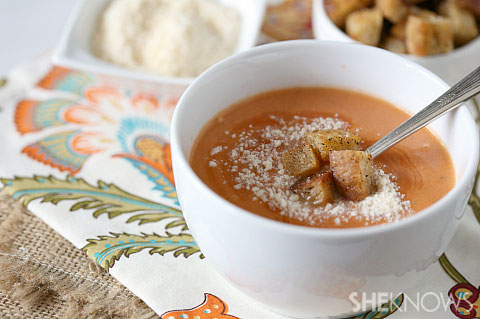 Tomato soup is warm and comforting and is my favorite homemade soup. It gets even better when it's made in the slow cooker and topped with fresh stove top croutons. Trust me, if you have a few extra minutes, these croutons are totally worth it. They bring a nice crunchy (and buttery) twist to your normal tomato goodness.
Slow cooker tomato basil soup
Yields 4-6 servings
Ingredients: 
1 (28 ounce) can crushed tomatoes
1 cup minced onions
1 cup minced celery
2 teaspoons Italian seasoning
1/3 cup fresh basil, minced
4 cups vegetable stock
1/2 cup unsalted butter
1/2 cup all-purpose flour
1 cup grated Parmesan cheese
1 cup heavy cream
Salt and pepper, to taste
Directions: 
In a 6-quart slow cooker, add crushed tomatoes, onion, celery, Italian seasoning, basil and vegetable stock. Cook on low for 6 hours.
After 6 hours of cooking, melt butter in a large skillet. Whisk in flour until smooth.
Slowly ladle in 3 cups of soup and stir until the soup is thick.
Add thickened soup back to the slow cooker and add Parmesan cheese and heavy cream.
Cook for another 30 minutes and serve.
Note: If the soup gets too thick, simply add in a little more vegetable stock until thinned.
Simple stove top croutons
Yields 2-1/2 cups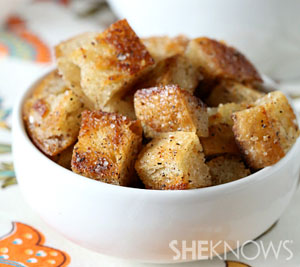 Ingredients:
2 tablespoons unsalted butter
2 tablespoons olive oil
2-1/2 cups diced stale sourdough bread
1 teaspoon kosher salt
1/2 teaspoon garlic powder
1/4 teaspoon black pepper
Directions: 
In a large skillet, melt butter and olive oil over medium-high heat. Add in bread and seasonings.
Toss to evenly coat and cook for about 5 minutes on each side until browned and crispy.
More slow cooker recipes
3 Vegan slow cooker recipes
Slow cooker chicken fajita recipe
Slow cooker creamy Italian-style tortellini