Mint brownie milkshake
We all love milkshakes but they get even better when they are spiked with mint and lots of brownies. It's time to drink your dessert!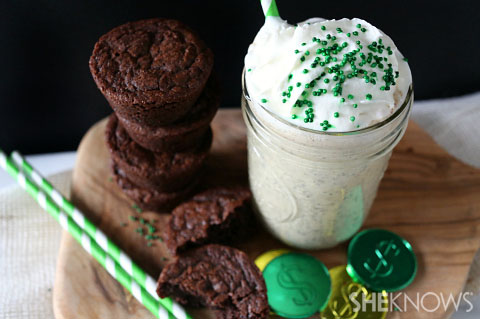 Chocolate and mint are a match made in heaven and in milkshake form it becomes even better. I made this milkshake with my niece and she was excited to sit down and finally sip on this delicious dish. Kids loving getting into the kitchen and helping make their dessert treats. Trust me, your whole family will go crazy over this chocolate mint treat.
Mint brownie milkshake
Yields 2 milkshakes
Ingredients:
1/2 cup whole milk
6 big scoops mint chocolate chip ice cream
2 large unfrosted brownie squares
Whipped cream
Sprinkles
Directions:
In a blender, add milk, ice cream and brownies.
Blend together until smooth.
Pour into 2 glasses, top with whipped cream and sprinkles.
Note: If you want a mintier flavor, you can add 1/2 teaspoon peppermint extract.
More milkshake recipes
Gingerbread cookie milkshake recipe
Boozy red velvet cake milkshake recipe
Shamrock shake milkshake recipe