Rainbow poke cake
Poke cake is a fun dessert to make with the kids but it's even better when you make the cake any color you desire.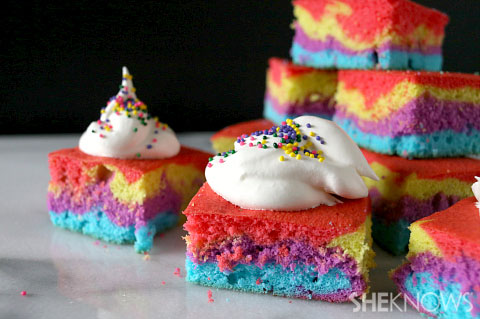 This is one of my favorite cakes to make for family gatherings. The kids love all the color and the adults love the simple vanilla flavor. I used bright colored dye to make the cake super colorful but normal food coloring works just as well. The best part about this cake is the vanilla pudding that gets poured all over the top! This cake is colorful, flavorful and super moist!
Rainbow poke cake
Yields 9 x 9-inch cake
Ingredients:
1 boxed white cake mix
Food coloring
1 (3.9 ounce) box instant vanilla pudding
Cool whip
Sprinkles (optional) 
Directions:
Spray a 9 x 9-inch baking dish with non-stick spray, set aside.
Prepare the cake according to box directions.
Divide the cake mix equally into 4, 5 or 6 bowls. This will depend on how many different colors you would like in the cake.
Add food coloring to each bowl and stir to completely combine.
Add batter 1 color at a time to the prepared pan. The easiest method is to just dump batter on top of batter. Then carefully smooth so the cake is even. Do not try to mix the batter together because it will be swirled while cooking.
Bake cake according to box directions. Since you're baking this cake in a 9 x 9-inch pan it will take a bit longer to bake than normal. It should take around 45 minutes or until a toothpick comes out clean when inserted in the middle.
Once fully baked, remove from the oven and let rest for 15 minutes. Using the skinny handle of the wooden spoon, poke 20 to 25 holes into the cake.
Prepare instant pudding according to box directions and pour over the cake. Smooth over the top so it goes into the holes of the cake.
Let the cake set for at least 1 hour and then top with Cool Whip and sprinkle on sprinkles.
Cut, serve and enjoy.
More cake recipes
Buttermilk pudding cake recipe
Simple toffee pumpkin cake recipe
Egg-free chocolate cake recipe