Cheesy corned beef sliders
You can't have St. Patrick's Day without corned beef and sauerkraut. Well, I mean, you could, but how much fun would that be? Instead of a big slab of corned beef, I decided to celebrate with these cute little corned beef sliders instead.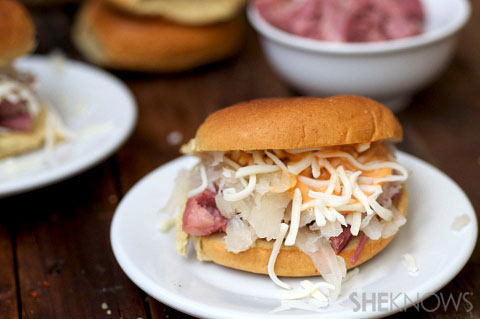 These perfect little bite-size sliders are great portable appetizers for St. Patty's parties or simple dinners for your little ones. Plus, I added cheese which makes these like little gooey corned beef grilled cheese sammies.
Cheesy corned beef sliders
Serves about 8 (2 each)
Ingredients:
16 mini slider buns
1 pound corned beef, cooked and shredded
1/2 cup thousand island dressing
2 cups finely grated cabbage or slaw
1/4 red onion
1 cup shredded mozzarella cheese
Salt and pepper
Directions:
Adjust oven rack to lower-middle position and preheat to 375 degrees F. Grease a cookie sheet with nonstick cooking spray. Place the buns on the cookie sheet and toast for about 5 to 6 minutes, or until toasted.
Mix the thousand island with the slaw and red onion. Top the buns with corned beef, cabbage and red onion mix and cheese. Serve warm.
More slider recipes
Chicken finger sliders
Tofu sliders with spicy sauce
Slow cooker pot roast sliders