Irish grilled cheese with a green tomato and garlic bisque
As much as I love food dye, especially on St. Patrick's Day, it's nice to have a few meals that aren't artificially tinted green from a little plastic bottle. This fresh broccoli soup is naturally a pastel color of green, making it a perfectly healthy way to eat green on St. Pat's. Paired with a cheesy corned beef sandwich, you'll have no problem getting into the spirit.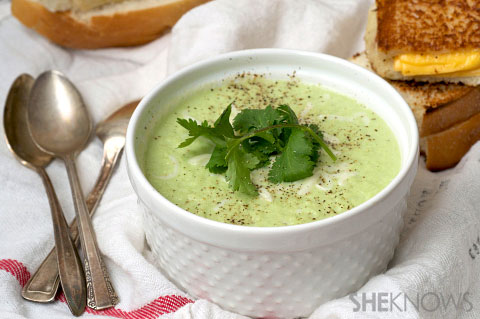 If your kids aren't big veggie eaters, you can trick them into eating this soup by saying it's been tinted green just for St. Patrick's Day. They'll drink it right up without questioning what's actually inside of it. Plus, when you pair it with super cheesy corned beef grilled cheese, they'll completely forget they are actually eating something healthy. Isn't trickery fun (and delicious)?
Irish grilled cheese with a broccoli and garlic bisque
Serves about 8
Ingredients: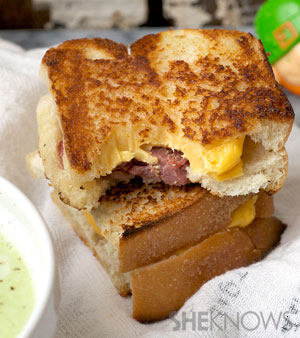 For the soup:
2 tablespoons unsalted butter
2 pounds broccoli, chopped into florets
1 medium onion, chopped
3 cloves garlic, minced
2 cups water
4 cups low-sodium chicken broth
1/4 cup fresh kale
1/4 cup mozzarella cheese
Salt and pepper to taste
For the grilled cheese:
8 slices bread
1 tablespoon unsalted butter
About 1 cup shredded corned beef
4 thick slices Velveeta cheese
Directions: 
To make the soup, heat the butter in a large Dutch oven over medium heat. Add the onion and cook until softened, about 2 minutes. Add broccoli and garlic and cook until fragrant, about 6 minutes. Add 1-1/2 cups of water and let simmer slightly. Season liberally with salt and pepper.
Add broth and remaining 1 cup of water. Bring the mixture to a simmer over medium heat and then stir in kale. Remove the soup from the pot and pour into a powerful blender. Add cheese and remaining 1/2 cup of water and puree until smooth.
To make the grilled cheese, butter each side of each piece of bread with 1/2 tablespoon of butter. Heat a large skillet over medium heat. Place the bread, butter side down, onto the skillet. Top with 1/4 cup of shredded corned beef and 1 slice of cheese and another slice of bread.
Cook until browned on each side and cheese is melted.
More kid-friendly St. Patrick's Day recipes
St. Patrick's Day food and traditions
Shamrock shake recipe
Shamrock sugar cookie recipe