Dinner Shortcuts: Meatball casserole
Take those meatballs and throw them together in one tasty casserole. Simple and easy.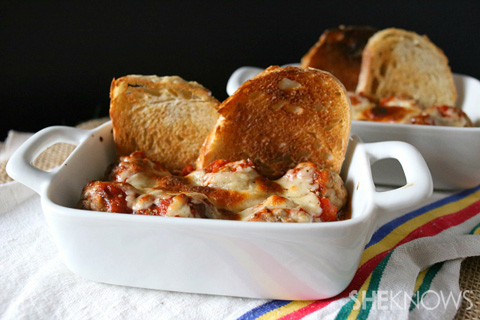 Meatballs don't just have to be served with spaghetti. That's why I love this flavorful dish. It's full of meatballs, ricotta cheese and freshly sliced Italian bread. This is the best quick weeknight dinner dish. Trust me, if you are always in a rush, give this a try!
Meatball casserole
Yields contents of 9 x 13-inch casserole dish
Ingredients: 
1 loaf Italian bread, sliced 1-inch thick
8 ounces cream cheese
15 ounces ricotta cheese
1 teaspoon Italian seasoning
16 ounces frozen meatballs
1 (24 ounce) jar tomato basil sauce
2 cups shredded mozzarella cheese
Directions: 
Preheat oven to 400 degrees F and spray a 9 x 13-inch pan with nonstick spray.
Place bread on the bottom of the prepared casserole dish.
In a mixer, add cream cheese, ricotta and Italian seasoning. Mix together until smooth and combined.
Spread on top of bread and cover the cheese mixture with meatballs.
Pour the marinara over the meatballs and top with shredded cheese.
Bake for about 30 minutes until the meatballs are hot and the cheese is melted and browned. Serve with extra toasted bread if desired.
More Dinner Shortcuts recipes
Stove top meatloaf recipe
BBQ chicken quesadilla recipe
Monte Cristo crescent roll-up recipe