Thin Mints puppy chow
Puppy chow is a perfect party snack. It gets even better when we throw in some chopped Thin Mints and lots of chocolate chips.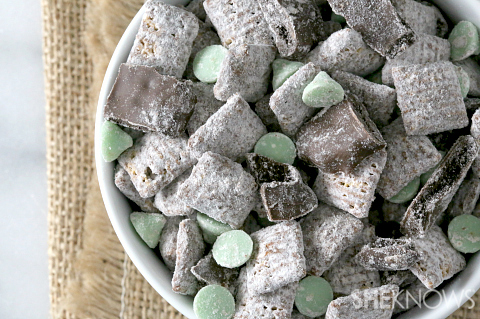 I have been a snacker my whole life. As soon as it's 10 p.m. my stomach starts growling and I have the craving to snack. This super minty Thin Mints puppy chow is the perfect sweet treat. Plus it's a great way to use up some of those leftover Girl Scout cookies.
Thin Mints puppy chow
Yields about 5 cups
Ingredients:
5 cups Corn Chex cereal
8 ounces melted chocolate
1 cup powdered sugar
1 cup crushed or diced Thin Mints cookies
1/2 cup mint chocolate chips
Directions:
Add Chex cereal to a large zip-top bag and pour in chocolate.
Close the bag and shake so all the cereal gets coated.
Add in powdered sugar and shake again until fully coated.
Add to a large bowl and stir in cookies and chocolate chips.
More mint recipes
Thin Mints cookie tart recipe
Cucumber, lime and mint cooler recipe
Blueberry-mint chia seed smoothie recipe