Green velvet cupcakes with fluffy cream cheese frosting
These super delicious green cupcakes are topped with a creamy homemade cream cheese frosting. Perfect for your St. Patty's Day celebrations.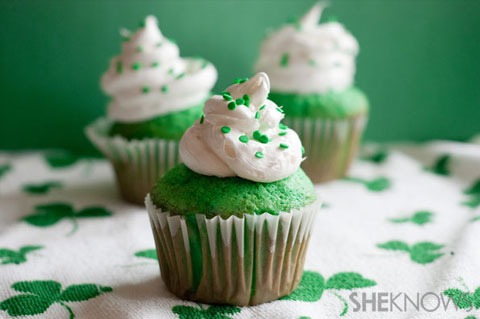 If you want a fun, easy dessert to celebrate St. Patrick's Day look no further. Here I share a simple and easy recipe for green velvet cupcakes with a rich and creamy frosting! I recommend allowing the cupcakes to cool completely before frosting otherwise your frosting may melt off due to the heat. If you would like to make a mini version of these sweet treats just follow this recipe and use a mini muffin pan in place of the regular-sized muffin pan.
Green velvet cupcakes with fluffy cream cheese frosting recipe
Yields 12 cupcakes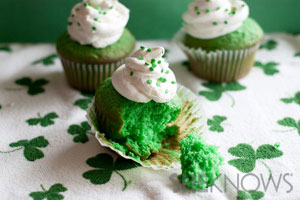 Ingredients:    
For the green velvet cupcakes:
1 white boxed cake mix
2 eggs
Vegetable oil
Water
1 bottle green food coloring
For the cream cheese frosting:
2 (8 ounce) package cream cheese, softened
1 stick unsalted butter, softened
1 tablespoon vanilla extract
3-1/2 cups powdered sugar
Directions:
In a large mixing bowl, add the cream cheese, butter and vanilla. Using a hand mixer, mix well.
Slowly add in the powdered sugar 1/2 cup at a time until the frosting is thick and fluffy. Set aside.
Preheat your oven and prepare the cake batter as directed on the box of cake mix.
Add 1 tablespoon of green food coloring or enough to reach desired shade of green and mix the batter very well.
Line a muffin pan with cupcake liners and fill each muffin cup 3/4 full of the cake batter.
Bake the cupcakes as directed. Remove from the oven and allow to cool completely. (I recommend 30-60 minutes)
Frost each of the cupcakes with the cream cheese frosting and garnish with green sprinkles if desired and serve.
More St. Patrick's Day recipe ideas
How to make green beer for St. Patrick's Day
St. Patrick's Day pancakes
Shamrock shake