Garlicky chicken and broccoli stuffed shells
Change up the traditional stuffed shell recipe by adding chopped chicken and broccoli. Topped with a healthy and creamy sauce, this is one divinely decadent dinner you can feel good about serving your family.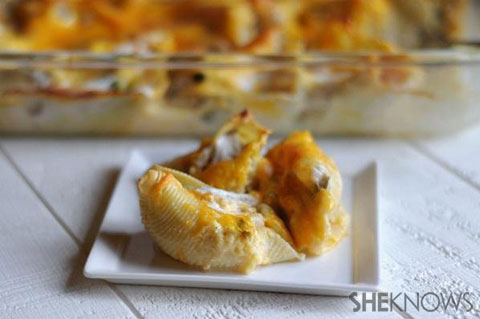 Garlicky chicken and broccoli stuffed shells
Serves 6
Ingredients:
1 pound jumbo shell pasta
2 cups cottage cheese
3 cloves garlic, smashed
1 teaspoon salt
1 teaspoon pepper
1/4 cup Parmesan cheese
2 cups shredded chicken
2 cups chopped broccoli florets
1 cup sharp cheddar cheese
Directions:
Preheat oven to 400 degrees F and spray a 9 x 13-inch baking dish with nonstick spray. Set aside.
Cook jumbo shell pasta according to package instructions to al dente, about 9 minutes in salted boiling water.
Finely chop the chicken and broccoli and mix well.
When the shells are done, remove carefully with a slotted spoon to a clean dry towel to cool before handling.
When the shells are cool enough to handle, stuff with the chicken and broccoli mixture, about 1-2 tablespoons per shell.
Place the shells stuffed-side-up in the prepared baking dish.
To make the sauce, add the cottage cheese, garlic, salt, pepper and Parmesan cheese to a food processor and process until completely smooth.
Pour evenly over the shells and sprinkle with cheddar cheese.
Bake at 400 degrees F for 30 minutes, or until the cheese on top is golden and bubbly.
Serve hot.
More stuffed shell favorites
Mexican stuffed shells
Sweet potato and chorizo stuffed shells
Butternut squash, ricotta and spinach stuffed shells