Garlic lime chili roasted chicken
Make dinner count tonight with this simple garlic lime chili roasted chicken. A delicious spice blend is seared into the chicken and then baked to perfection.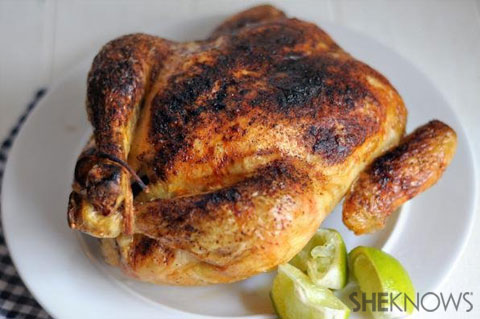 Garlic lime chili roasted chicken
Serves 4-6
Ingredients:
1 whole chicken, 4-5 pounds
2 tablespoons olive oil
1 teaspoon chili powder
1 teaspoon salt
1 teaspoon garlic powder
2 whole limes, halved
1 bulb garlic, halved width-wise
2 dried ancho chiles
Directions:
Preheat oven to 425 degrees F.
Spray the rack of a roasting pan with nonstick spray and set aside.
Rinse and pat the chicken dry and set on the prepared rack.
Stuff the cavity with 1 of the halved limes, the garlic bulb and the ancho peppers.
Using a piece of kitchen twine, tie the legs together.
Brush the skin with the olive oil.
Sprinkle evenly with the chili powder, garlic powder and salt.
Roast at 425 degrees F for 75 to 90 minutes, or until the internal temperature reaches 165 degrees F.
Let rest for 10 minutes before carving and serving.
More favorite roasted chicken recipes
Roast chicken with citrus gravy
Classic roasted chicken
Pulled roast chicken