Dinner Shortcuts: Personalized French bread pizzas
Set up a pizza bar and let the kids make their own! This is one fun and tasty French bread pizza.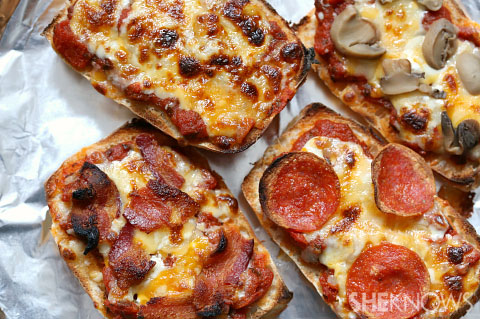 My husband and I love French bread pizza night. We gather tons of different toppings and we assemble our own personal pizzas. This idea is fantastic for parties or a quick weeknight meal. Plus with all the different topping ideas you never have to worry about picky eaters.
Personalized French bread pizzas
Yields 4 French bread pizzas
Ingredients: 
2 (12-inch) French bread rolls
1 cup marinara sauce
2 cups shredded mozzarella cheese
Toppings: Pepperoni, pre-cooked bacon, onion, peppers or mushrooms
Directions: 
Preheat oven to 400 degrees F and line a baking sheet with foil or parchment paper, set aside.
Cut French rolls in half, length wise.
Spread each half with an equal amount of marinara sauce and top with an equal amount of cheese.
Top your bread with your desired toppings.
Add to the oven and bake for about 10 minutes until the cheese is melted and golden brown.
More Dinner Shortcuts recipes
Corn dog muffin recipes
Doritos taco salad recipes
Chicken Caesar pasta salad recipes