Chocolate cake for one
Chocolate cake for one is baked, not microwaved. Make sure you invest in some smaller ramekins to eat this treat year-round!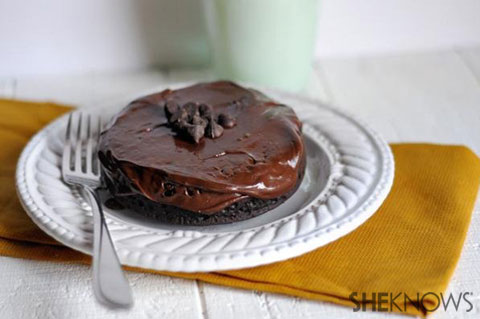 Chocolate cake for one
Serves 1
Ingredients:
1/4 cup flour
2 tablespoons cocoa powder
1/4 teaspoon baking soda
1/8 teaspoon baking powder
1/8 teaspoon salt
1/4 cup sugar
1 tablespoon oil
1/8 cup milk
1/8 cup brewed coffee
1 egg white
1/8 teaspoon vanilla extract
3 tablespoons semisweet chocolate chips
Directions:
Preheat oven to 350 degrees F.
Spray a 4-inch oven-safe ramekin with nonstick spray and set aside.
In a bowl, whisk together the sugar, oil, milk, coffee, egg white and vanilla until smooth.
Sift in the flour, cocoa powder, baking soda, baking powder and salt.
Stir until just combined and smooth.
Pour into the prepared ramekin and bake at 350 degrees F for 18 to 20 minutes until a toothpick inserted comes out clean.
Sprinkle the top evenly with the chocolate chips, then return to the oven for another 60 to 90 seconds.
Remove from the oven and spread the chocolate chips evenly on top for the frosting.
Serve warm or at room temperature.
More chocolate cake favorites
Sinful gluten-free molten chocolate cake
Egg-free chocolate cake
German chocolate cake frosting truffles