Dinner Shortcuts: Buffalo chicken quesadilla
Make a simple Buffalo chicken mixture, throw it on a tortilla and cook until crispy. You're going to love this quesadilla!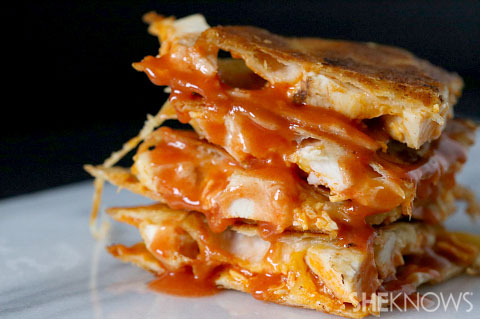 Quesadillas are one of my favorite easy recipes. You can customize them to include just about any ingredient and are perfect for a quick dinner dish. This quesadilla is packed full of leftover chicken, spicy Frank's RedHot and lots of blue cheese dressing. You're going to love this dish!
Buffalo chicken quesadillas
Yields 1 quesadilla
Ingredients:
1 large (12-inch size) flour tortilla
Nonstick spray
1/2 cup shredded chicken (leftover is fine) 
1/4 cup Frank's RedHot
2 tablespoons blue cheese dressing
2/3 cup shredded cheese
Directions:
Lay out your large tortilla and spray 1 side with nonstick cooking spray.
In a small bowl, mix together chicken, Frank's RedHot and blue cheese dressing.
Flip tortilla over to non-sprayed side and lay 1/3 cup shredded cheese on half the tortilla. Top with chicken mixture and remaining cheese.
Flip the other half of the tortilla over the chicken mixture and add to medium-sized skillet set over medium heat.
Cook until browned on bottom and cheese has started to melt.
Flip over and continue cooking until other side is also browned.
Cut into 4 wedges and serve with additional hot sauce or blue cheese dressing if desired.
More Dinner Shortcuts recipes
Baked tacos recipe
One-skillet tuna noodle casserole recipe
Black bean tostada recipe