Brown sugar, bacon and cheese sliders with buttery tomato bisque
Growing up, there was nothing more comforting than a big bowl of tomato soup and an extra gooey grilled cheese. My mom would make them whenever it was cold or when we had a cold. If there's one thing that never changes, no matter how old I am, it's that I always feel better and warmer after soup and grilled cheese.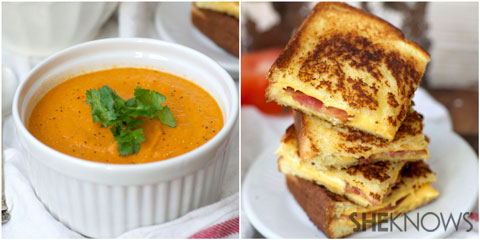 Even with super picky eaters, this rich and creamy tomato bisque and extra gooey brown sugar grilled cheese will be a hit. Trust me, I grew up with the pickiest of brothers and even they would gobble this down!
Brown sugar, bacon and cheese sliders with buttery tomato bisque
Serves about 4
Ingredients: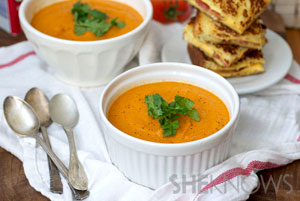 For the soup: 
4 tablespoons unsalted butter
1 medium onion, chopped
1 medium carrot, chopped
1/2 medium parsnip, chopped
1 celery rib, chopped
1 large tomato, chopped
3 tablespoons all-purpose flour
4 cups chicken broth
2 (14-1/2 ounce) cans diced tomatoes
1-1/2 tablespoons tomato paste
1/4 cup heavy cream
Fresh cilantro for garnish
Salt and pepper
For the grilled cheese: 
4 tablespoons unsalted butter
8 slices whole wheat bread
8 slices American cheese
4 slices crispy bacon, cooked and cut in half
2 tablespoons brown sugar
Directions: 
In a medium saucepan over medium heat, melt 2 tablespoons of butter. Add the onion and cook until softened, about 2 minutes. Add the carrot, parsnip, celery and tomato. Cook until vegetables are softened, about 5 to 6 minutes. Sprinkle the flour over and stir on low heat until coated.
Add the chicken broth, diced tomatoes, tomato paste, cilantro and salt and pepper. Cover with a lid and bring the mixture to a simmer over medium-low heat, about 10 to 12 minutes.
Pour the mixture into a blender and blend on low until thick and creamy. Add in heavy cream, 2 more tablespoons of butter and blend more.
Meanwhile, make the grilled cheese by buttering every side of the bread with 1/2 tablespoon of butter. Heat a nonstick skillet over medium heat. Place once slice of bread down, buttered side, on the skillet. Top with 2 slices of cheese, 1 piece of bacon and 1 teaspoon brown sugar. Top with a second piece of bread, buttered side up.
Cook on medium-high for about 4 minutes on each side, or until golden brown and cheese is melted. Garnish the soup with the grilled cheese.
More comfort food recipes
Smoked Gouda mac 'n' cheese
Creamy sweet potato and pork belly mac 'n' cheese
Mini puff pastry pot pie sliders