How to make chocolate shell
Did you ever wonder how they get that magical chocolaty shell on your favorite ice cream treats? Make your own at home with this easy recipe.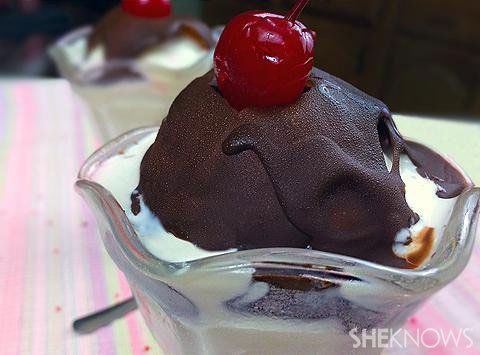 Chocolate shell is that chocolate topping you get that hardens into a sweet, crunchy layer of chocolate to cover your favorite ice cream or fruit. There are several brand names you can buy off the shelf, but it's much cheaper to make your own, and practically just as fast.
You can make this with any kind of chocolate you like: semisweet, milk, white, dark). And though the coconut oil is the best fat additive, there are other more common ingredients you can also use. Believe it or not, this chocolate sauce will stay good in your pantry (never the fridge!) for about a month.
Homemade chocolate shell recipe
Yields 2 cups
Ingredients:
2 cups chocolate chips or block chocolate, chopped
4 tablespoons coconut oil, shortening or butter
Directions:
In a large microwave-safe bowl, add the chocolate and fat.
Microwave it on high for 15 seconds at a time, stirring between microwave sessions, until it's melty and smooth.
Let it sit on the counter until the chocolate is room temperature before serving.
Quick tip: Make colored chocolate shell by mixing chocolate coloring oils into white chocolate.
Ideas for using your chocolate shell
Most people immediately think of ice cream when they think of chocolate shell, but it's also great on other foods.
Strawberries
Bananas
Pineapple
Fresh cherries (pitted)
Mandarin orange slices
Apple slices
Fruit-flavored sorbets
Marshmallows
Pretzels
Granola bars
Cookies
Peeps
Cake
Potato chips
Rice Krispies treats
Candy canes
Graham crackers
Peanut butter-spread Ritz
Ice pops
Certain cheeses (gouda, blue cheese, cheddar, goat cheese, etc.)
More kid-friendly recipes with chocolate
Chocolate chip oatmeal pancakes
5 Hot chocolate variations
Homemade breakfast cereals