Cinnamon churro cake bites
If you love cinnamon and you love cake, this is one dessert you won't want to pass on! Pound cake is cubed and lightly fried, and then tossed in a delicious coating of cinnamon sugar.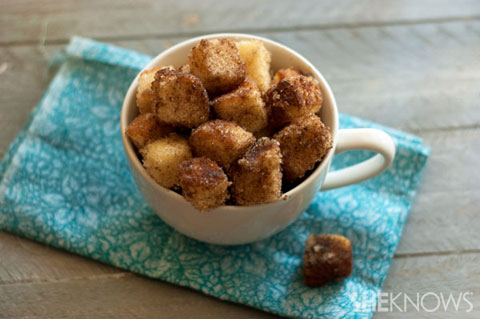 Are you a fan of cinnamon like me? This is one tasty little treat that will surely impress anyone who has a bite. If you have ever tried a churro, which is a long fried pastry almost like a doughnut and covered in cinnamon sugar, this is very similar in flavor. Instead of using dough I used a pound cake which I cubed and fried lightly. These are the perfect size treats when you just want a little something sweet.
Cinnamon churro cake bites recipe
Yields 8 servings
Ingredients:
Canola oil for frying
1 frozen pound cake, thawed
3/4 cup organic sugar
1/4 cup ground cinnamon
Directions:
Heat a deep pan over medium-high heat and add enough canola oil so that it reaches about 1 inch in depth.
With a knife, cut the pound cake into thick slices and then cut them into cubes.
In a large zip top plastic bag or in a large mixing bowl, add the sugar and the cinnamon and mix well.
Begin frying the cake cubes in small batches until golden brown. Drain on a plate lined with paper towels and add to the bag of cinnamon sugar.
Close the top of the bag and shake vigorously until each cake piece is coated well with the cinnamon sugar mixture. Repeat with the remaining cake.
Store the bites in an airtight container for several days. Can be served warm or at room temperature.
More cinnamon-flavored treats
Giant cinnamon roll cake
Apple pie salsa with cinnamon tortilla chips
Cinnamon breakfast quinoa