Mini beef patty melts
There's something so nostalgic and 1950s about a classic beef patty melt. The ground beef smothered in gooey cheese sitting between two perfectly toasted slices of bread. It's what you get when a hamburger and BLT meet.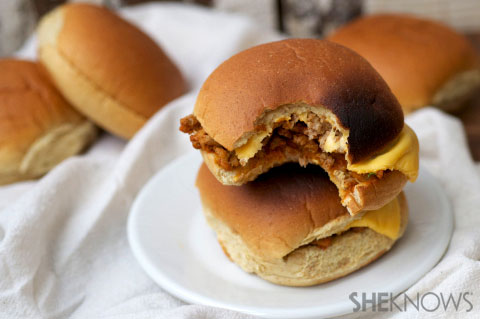 These mini beef patty melts take the classic and turn them into something bite size for little hands. Or you can whip up a big batch of these for a fun and classic take on an ordinary diner favorite. Plus, it's great when your kids can't decide between a hamburger and toasty sandwich, now they can have both!
Mini beef patty melts
Yields about 8 sliders
Ingredients:
1 pound ground beef or turkey
8 slider buns
8 slices American cheese
Salt and pepper
Softened butter
Directions: 
Heat a large skillet over medium-high heat and spray with nonstick cooking spray. Add the ground beef and cook until fully browned, about 8 minutes. Add salt and pepper.
Preheat broiler. Butter each side of the 8 slider buns. Top 1 side with ground beef. Cut each slice of American cheese in half and place over the ground beef. Add another bun.
Place on a cookie sheet and broil for about 2 to 3 minutes, or until cheese is melted.
More mini sandwich recipes
Mini chicken and waffle sandwich recipe
6 Mini sandwich meals perfect for kids
Avocado and crab cake slider recipe