Dinner Shortcuts: BBQ chicken quesadilla
Chicken, BBQ sauce and caramelized onions all pressed between two buttery grilled tortillas. This is one delicious and easy dinner.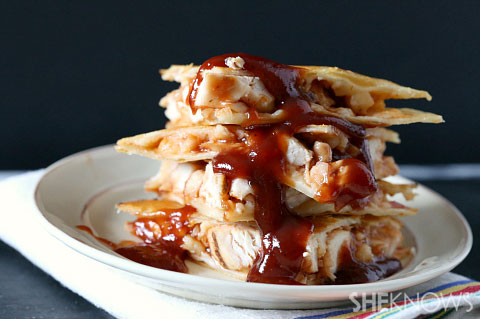 Quesadillas are the easiest way to throw together a quick and easy dinner. Plus it's a great option for cleaning out the fridge. A little bit of this and a little bit of that. My favorite way to use up leftover chicken is by mixing it with my favorite BBQ sauce and adding a little caramelized onion. It's meaty, sweet and full of flavor!
BBQ chicken quesadilla
Yields 1 quesadilla
Ingredients: 
1 tablespoon olive oil
1/3 cup sliced onions
1/2 cup leftover chicken, chopped or shredded
1/3 cup BBQ sauce
1/2 cup shredded cheese
2 (8 inch) flour tortillas
1 tablespoon butter
Directions:
In a medium-sized skillet over medium heat, add olive oil. Once the oil is hot, slowly sauté the onions until tender and golden brown in color, about 20 minutes. Remove from heat.
In a small bowl, combine chicken and BBQ sauce.
Lay out 1 flour tortilla and add 1/4 cup cheese, onions, chicken and remaining 1/4 cup cheese. Top with remaining tortilla.
In a small skillet set over medium-low heat, add 1 tablespoon butter and once it's melted add in quesadilla. Cook until underside is golden brown and the cheese has started to melt.
Carefully flip to the other side and cook until golden brown and middle is warm and melted.
Cut into 4 wedges and enjoy with a small side of extra BBQ sauce.
More Dinner Shortcuts recipes
Greek meatball sliders recipe
Italian sub crescent roll-ups recipe
Chicken and rice casserole recipe