Slow-cooker meatloaf
Turns out, it's actually possible to make meatloaf easier. This tasty loaf is juicy and delish after just a few hours in a Crock-Pot.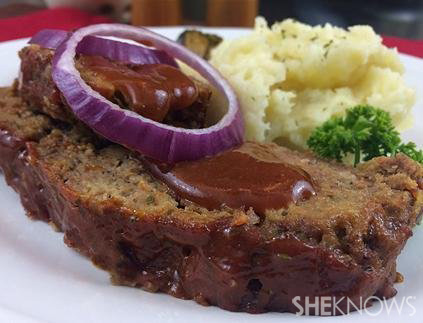 This meatloaf couldn't be easier! It's the perfect meal for Saturday night dinner. Just whip it up before you make lunch, put it in the slow-cooker and let the cooker do its thing. If you love the glaze as much as I do, consider doubling the ketchup, brown sugar, mustard and Worcestershire sauce, spooning half of it over the loaf before cooking and refrigerating the rest until mealtime.
Slow-cooker meatloaf recipe
Serves 8-10
Ingredients:
Cooking spray
2 eggs, lightly beaten
3/4 cup milk
1/2 teaspoon poultry seasoning
1-1/2 scant teaspoons salt
1 teaspoon black pepper
1-1/2 pounds ground beef or turkey
1 cup seasoned breadcrumbs
1/2 small onion, finely chopped
1/4 cup ketchup
2 tablespoons dark brown sugar
2 teaspoons mustard
1 teaspoon Worcestershire sauce
Directions:
Fold a long piece of aluminum foil in half and place it in your slow cooker. You do not need to line the cooker. You're just creating a way to easily remove the meatloaf, so the sides of the foil should come up over the slow cooker to act as handles. It helps to use really high-quality foil.
Spray the foil and the sides of the slow cooker that are exposed well with cooking spray.
In a large bowl, combine the eggs, milk, poultry seasoning, salt and pepper.
Add the ground meat and onions, and use your hands to integrate the breadcrumb mixture. Mix until it's just combined. You don't want to overwork the meat.
Form the meat into a loaf of any shape that will fit into your slow cooker, trying to make sure it's well packed. I put the meat into a bread pan sprayed with cooking spray and used my hands to pack it down, then turned out the meat and finished shaping the loaf.
Place the meatloaf into the slow cooker.
In a small bowl, mix together the ketchup, brown sugar, mustard and Worcestershire sauce and spoon it over the meatloaf.
Put the lid on your slow cooker and cook it on low for 6 hours. Use the foil handles to carefully remove the meatloaf from the pot.
Quick tip: Don't like getting raw ground meat under your fingernails? Neither do I. If you don't have gloves, put your hands into small zip-top bags to mix the meat.
More beef recipes
White cheddar and spicy beef queso
Mexican Valentine's Day: Chipotle wild berry beef for two
Mini tamale muffins