Dinner Shortcuts: Monte Cristo crescent roll-ups
All the flavor of a Monte Cristo sandwich rolled up in a crescent roll.  Add a sprinkle of powdered sugar and call it a meal.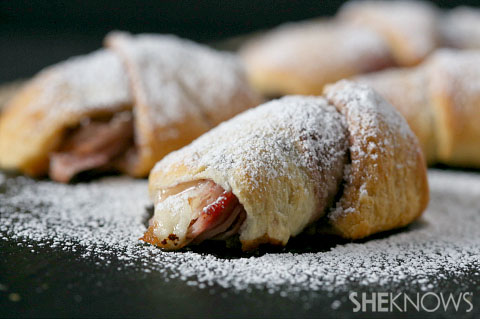 I have always had a love for Monte Cristo sandwiches. They are sweet, savory and perfect for lunch or dinner. I wanted to make them a little bit different than normal so I decided to turn them into an easy crescent roll-up. I used blackberry jam but raspberry is a good choice too. Throw it together and bake for a quick and easy grab and go dinner.
Monte Cristo crescent roll-ups
Yields 8 roll-ups
Ingredients: 
1 package (8 count) refrigerated crescent rolls
Blackberry jam, seedless
8 thin slices deli ham
8 thin slices deli turkey
4 thin slices provolone cheese, cut in half
Powdered sugar
Directions: 
Preheat oven to 375 degrees F and prepare a baking sheet with parchment paper or a Silpat liner.
Unroll crescent rolls onto the baking sheet and thinly spread a little jam over crescent roll.
Lay 1 slice ham, 1 slice turkey and 1/2 slice cheese onto the large end of each crescent roll. Roll up tightly.
Bake for about 15 minutes until the crescent is golden brown and the meat and cheese is warm and melted.
Remove from the oven and sprinkle with powdered sugar.
More Dinner Shortcuts recipes
Greek meatball sliders recipe
Italian sub crescent roll-ups recipe
Chicken and rice casserole recipe