Raspberry & strawberry honey chicken skewers
Is there anything more boring than a boneless, skinless chicken breast? Sure it's healthy and easy, but who wants to eat it if it has no flavor? That's why I took these chicken breasts and gave them a massive gut-punch of flavor with homemade raspberry and honey jam.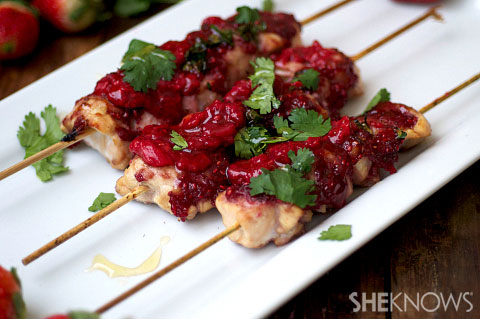 These skewers are anything but boring and bland. Each bite is filled with bright and fruity flavors, with just a hint of sweetness from the organic honey. Not only is this a crowd pleaser with your picky kids, it's a beautiful dish you can serve to your adult friends too!
Raspberry & strawberry honey chicken skewers
Serves about 6
Ingredients: 
12 wooden skewers
4 extra-large boneless, skinless chicken breasts
Salt and pepper
2 tablespoons honey
1 tablespoon port wine
2 tablespoons water
1 tablespoon lemon juice
2 teaspoons corn starch
1 pint fresh strawberries, slightly smashed
1/2 pint raspberry jam, slightly smashed
Fresh mint or cilantro for garnish
Directions: 
Preheat oven to 450 degrees F. Grease a 9 x 13-inch glass pan with nonstick cooking spray.
Cut the meat into bite-size pieces and skewer on the wooden skewers. Place about 5 to 6 pieces of chicken on the skewers. Sprinkle with salt and pepper.
To make the sauce, place the honey and wine in a saucepan over medium heat. Cook for about 2 minutes and add half of the strawberries. Bring the mixture to a rapid boil and then reduce heat to low. In a small bowl, whisk together the cornstarch, water and lemon juice. Remove the wine mixture from the heat and stir in the raspberry jam and strawberries.
Spread the sauce over the chicken and garnish with lemon zest.
Bake for about 25 minutes, or until the chicken is fully cooked.
More chicken recipes
Organic chicken sausage and pepper stir-fry
Slow cooker sticky and honey teriyaki chicken
Loaded baked potato chicken